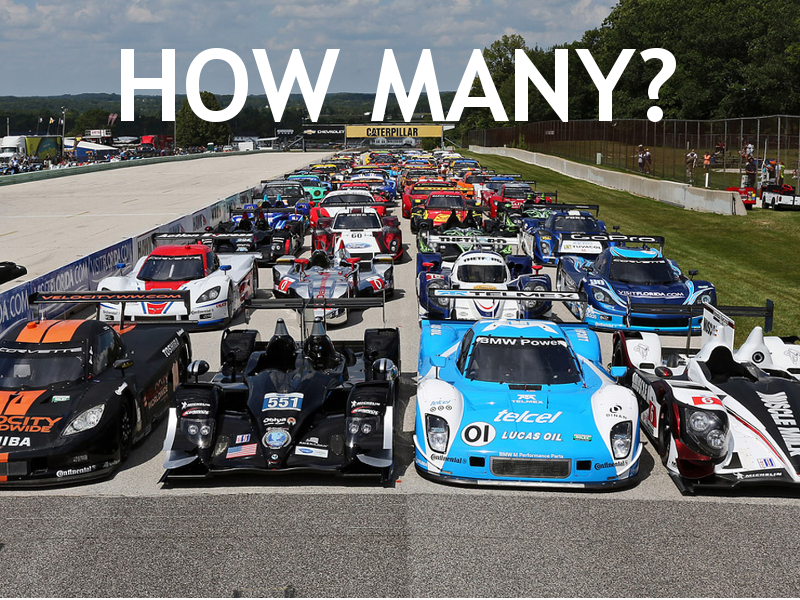 American sports cars have a big shakeup coming. Will it sink or swim? Here's the rundown on the biggest news of the last month.
What is this? I don't even...
The TUDOR United SportsCar Series (TUSC for short).
Wait, TUSC? Like a walrus, or a warthog?
Yes, it's a terrible acronym that should never be used. You don't abbreviate the Formula One World Championship as FOWC, do you?
Sports cars, eh? Why haven't I heard of it?
You haven't heard of a lot of things. The TUDOR series is next year's merger of the American Le Mans Series and the Grand-Am Rolex Sports Car series. TUDOR is Rolex's low price brand making its return to the US this year, so the rename was a perfect chance for putting that name on a racing series in place of Rolex.
So why did they merge?
Because neither were doing that well. Not many cars raced the ALMS, and not many people watched Grand-Am. They hope to capture the best of both of those traits, lots of cars and lots of fans. Though 'merge' doesn't quite tell the whole story, since Grand-Am (financed by NASCAR) bought the ALMS and its sanctioning body IMSA outright.
It was a hostile takeover?
No, that's not right either. Because despite NASCAR bringing the money, they've kept most of the cars and policies of the ALMS, while requiring their own teams to undertake expensive upgrade programs to compete in the new series.
So what's going on with it, then?
After months of delays (the first test for next season is in November, yet the two largest classes still don't have technical regulations, for example), IMSA finally released a schedule in late September. Now, three weeks later, they rewrote the schedule.
Why would they do that?
Because too many people want to race.
Wait, what?
With such big changes to the series and increased costs, it was expected that a number of teams would drop out of the series next year. Instead, nearly every team is planning a program for next season, and many are adding additional cars. The series has run out of pit stalls at some of their tracks, they literally can't fit everyone who wants to race.
Why did the schedule need to change?
Because different tracks have different numbers of pit stalls, IMSA has built the schedule in a way to fit the most cars on track at a time at each track. Part of this means each class has a limit to the number of cars allowed for each track. They say full season entries will get priority, but it remains to be seen if that means there will be a few spots for cars to show up, or if every race the slowest cars will be failing to make the race. It also means sometimes not all four classes will be on track at once, and some tracks won't have all the classes at a given weekend. The changes include separate Pro and Pro-Am races at Laguna Seca, and the Prototype Challenge cars no longer racing Canadian Tire Motorsport Park and Detroit, adding a race at Kansas instead. Split races like this was a common practice in the 70s and 80s, where they used to have 70 cars at Daytona, then split races at the smaller tracks. IMSA says they can't allow shared pit stalls anymore, so someone needed to go.
So what's the schedule now?
Jan 25-26 Daytona International Speedway
Mar 15 Sebring International Raceway
Apr 12 Long Beach Street Circuit (P/GTLM Only)
May 4 Mazda Raceway Laguna Seca (Split P/GTLM and PC/GTD Events)
May 31 Detroit Belle Isle (P/GTD Only)
June 7 Kansas Speedway (PC Only)
Jun 29 Watkins Glen International
Jul 13 Canadian Tire Motorsports Park (P/GTLM/GTD Only)
Jul 25 Indianapolis Motor Speedway
Aug 10 Road America
Aug 24 Virginia International Raceway (Split PC and GTLM/GTD Events)
Sep 20 Circuit of The Americas
Oct 4 Road Atlanta
I still don't see what's good about this.
What's good is it shows US interest in sports car racing is on the rise. It's always a good thing when team participation is high, we love seeing lots of cars on track. Team budgets will be increasing significantly over this year, yet teams are still getting the financing they need. The response is so strong that the European teams who want to come race are being told there may not be room for them on the track. It's a pleasant surprise, and if car counts stay high expect big changes next year to make room for these international entries to bring America back as a premier destination for endurance racing.
So when can we start enjoying the racing?
Testing begins next month, with January being the official start of the season at the Rolex 24 hours of Daytona. Still have questions? Ask in Kinja below.