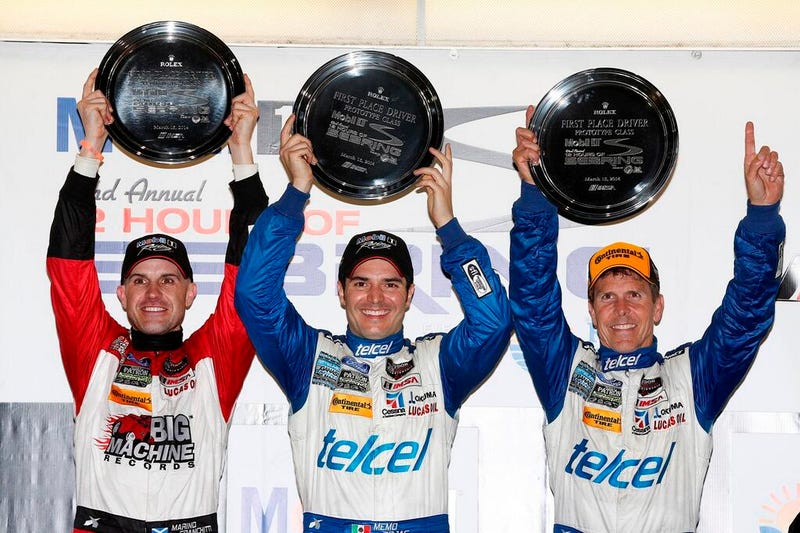 Remember when F1 was a weekly procession broken up only by passes manufactured by gimmicks, tires falling apart after seven laps and the classic game of "When does the Austrian anthem start/When does the German anthem end?"? Man, late 2013 seems so long ago. F1 wasn't the only thing in action, though, it was a busy weekend in racing.
Tudor United Sports Car Championship
This year's 12 Hours of Sebring, the first run under the new, united IMSA (Which is somehow the third different IMSA in the last 15 years, even though it retains the majority of the ALMS-Era IMSA's board and eccentricities), seemed a bit less special than it did as an ALMS race, partially because it now sits in the shadow of the Rolex 24 as it once did, and partly because those Le Mans overall winning LMP1 cars were, for the first time in a very long time, conspicuously absent from the storied airport circuit. However, that didn't make the race any less important, any less grueling or any less interesting. Ultimately, it was Chip Ganassi Racing's #01 Daytona Prototype, curiously piloted to the end by Marino Franchitti and not the car's traditional closer, Scott Pruett, that took the overall victory. For the full rundown, check out our Bakkster's full review here.
After you do that, take a moment to consider the fact that the 12 Hours of Sebring's list of winners will, in the course of one year, jump straight from "Audi Sport Team Joest R18" to "Chip Ganassi Racing Riley-Ford Daytona Prototype". That's quite an interesting turn of events, isn't it?
Formula 1
Did you miss turbos? Well, you might've not been born when they were last happening in F1, but since you're the sort of person that reads racing news on the internet you probably still at least tell people that you do. Anyway, the turbocharger is once more an integral part of the Formula 1 race car, and while it may contribute to a what most consider to be a rather bleak engine note, it's also created a new breed of torque-mad monsters that are more than a handful for even the best of Formula 1 to control. Combine that new-found torque with a new-found lack of downforce, harder tires and the incredible lack of reliability that has been absent from most of racing since the late 90s and you've got a recipe for races about more than just option tires and DRS.
The 2014 season opener in Melbourne immediately proved this recipe could work as planned. Yes, Nico Rosberg did his best Vettel impression up front and won by nearly half a minute in his Mercedes entry, but the race behind him was absolutely fascinating in only a way this new era could be. Polesitter Lewis Hamilton and now four time and reigning champion Sebastian Vettel were victims of engine issues early on, and with them out of the way, the door was open for the rest of the field to fill the podium. The result? An amazing home-race drive for Daniel Ricciardo, who finished second on debut for Red Bull, an even more amazing run for Formula 1 debutante (and noted man named "Kevin") Kevin Magnussen and an absolutely awe-inspiring run through the field to self-inflicted flat tire to run through the field event for Williams pilot Valtteri Bottas, who ended up sixth.
That is, until technical inspection. There, second place finisher Daniel Ricciardo was found to havean issue that lead to his immediate disqualification, elevating Magnussen to second and his McLaren team mate Jenson Button to third.
Rather obviously, Rosberg now leads the driver's standings. McLaren, meanwhile, leads the constructor's championship thanks to a double podium and a retirement for their former driver Lewis Hamilton.
NASCAR Sprint Cup Series
Usually, NASCAR's legendary Bristol night race comes but once a year. Then again, races are also not usually assumed to be washouts before cars even arrive at the track. However, that was the case today at the .5 mile Tennessee short track, and unfortunately those predicted rains came early and often today. First, they delayed the start of the race by a few hours, but ultimately it began. Then, however, they came again at just lap 124 of 500. But, the race resumed, and thanks to extended showers it resumed under the lights, meaning that 2014 will (Hopefully, given that rain could still come in August) give us two Bristol night races.
With the absolutely epic on-track action at Bristol simply par-for-the-course, the headline of the day was instead a series of tire issues that ruined the days of the likes of Jimmie Johnson, Kyle Busch and Martin Truex Jr. The yellow for Busch's issue set up a final series of stops that put Carl Edwards at the front of the pack for what would become the final restart, and Edwards successfully held on from there to win the race.
However, NASCAR didn't quite hold themselves together the entire race. With two laps to go and Edwards about two seconds clear of the next best car, half of the track's safety car-indicating yellow lights lit up for no clear reason. With rain arriving about a minute after this happened, the race was quickly called at what was the full race distance anyway, but the reason for that caution was still a mystery. As it turns out, a NASCAR official accidentally set off the lights from the tower, and if it weren't for that well-timed torrential rain, they would have unintentionally triggered a green-white-checkered finish that could've stolen the win from Edwards.
Four races in, your four race winners are Kevin Harvick, Dale Earnhardt Jr, Brad Keselowski and, now, Carl Edwards. They are each likely locked into the series's new elimination postseason, which starts in September.
NASCAR Nationwide Series
Kyle Busch won again. Someone at PRN, the track-owned radio station covering the race for hundreds of regional affiliates, called it "Vindication", because I'm sure it's always vindicating to do something you've done six times rather easily a seventh time.
There were, of course, still Nationwide Series regulars in the race. Regan Smith still leads their championship, but now finds himself just one point ahead of Roush-Fenway Racing's now fifth year Nationwide Series veteran Trevor Bayne. Rookie Ty Dillon finds himself a surprising third, just eight points back, despite struggling in his limited Nationwide starts in 2013.
Australian V8 Supercars
The V8s didn't run for points this weekend, but they did run their annual Formula 1 companion non-points races, and the winner of the last race (And, as a result, the weekend "Championship") came as a bit of a shock. Yes, Volvo for the first time in the V8 Supercars era became Australian touring car race winners, thanks in no small part to the brilliant young Kiwi Scott "Jandals" McLaughlin. The other three races on the weekend were won by Shane "SHANEVANGISBERGEN" Van Gisbergen, who ultimately fell to a car issue in the final race and in turn lost the weekend title.
That does it for this busy weekend. Join us again next weekend for...
Well, looks like there's not much going on next weekend. But, rest assured we'll review it!