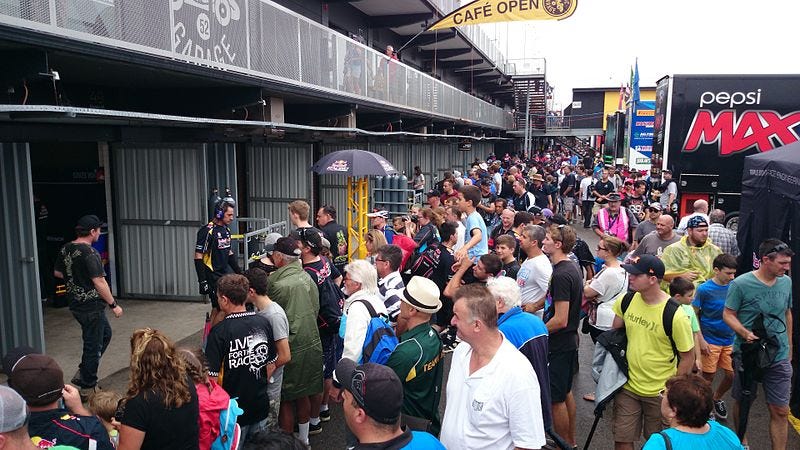 The V8 Supercars season starts this weekend with a two day test at Sydney Motorsports Park, formerly known as Eastern Creek. This year's test will feature a shootout on the final day which will give each team a chance to strut their stuff. "What's the point of having a top ten-esque shootout in a test," you might ask. Well, it's a futile effort to compete with the 12-hour GT-3 race in Bathurst something fun, neat, cool, and interesting for the fans.
- Jamie Whincup is here. Everyone is still talking about how he was bitten by a snake. Despite barely being able to move his hand, he just turned a lap .2s faster than the previous best. HERE WE GO AGAIN.
- All the drivers are talking about some race happening down the road and how they wish they were there. What race could possibly make drivers not want to participate in the Super Sydney.com Supertest Super Shootout on Super Sunday?
- Using the powers of Twitter, I've found out that there's this race called the Bathurst 12 hour. Hey, Bathurst, I know that place. From what it looks, these "GT3 cars" as they're called can go faster than V8 Supercars.
This is a complete shock to me, as there's no way for a set of regulations to allow more downforce than another and thus be faster. That's not possible. I guess it proves that GT3 cars are funner, cooolerer, more interestinger than the V8 Supercars.
- DRAMA halfway through the Sydney.com Super test! The entire Prodrive Racing Australia outfit has picked up all their things and moved into the Red Bull garages. Only Frosty is left. Hopefully Ford can help him!
- So this 12 hour race seems pretty fun. It's different from the Supercars, but cool. Isn't it amazing how things can be different and you can enjoy them? Isn't it incredibly easy to not be an elitest snob?
- Frosty is on the phone with Ford.
"Yeah, can you guys send some help or something. Triple Eight did that thing where they took guys that work for us because you barely give our team any money."
"Wait, who is this?"
"Mark! You know, the guy that's been loyal to your V8 Supercars program?"
"We have a V8 Supercar program? Wait, Mark as in Marcos Ambrose? We remember you!"
- Back at Bathurst, I'm learning more about these """""""""""""exotic"""""""""""" GT3 cars. Apparently there are series like this all around the world. There's even one in Australia that five people enjoy all year round! No wonder people think this stuff is going to usurp the V8 Wooden Carriages!
- James Warburton is talking about how much of a success the test has been so far.
"I think we've accomplished our goal of dividing the Australian motorsport fan base and making ourselves look like fools so far. Another few years of this and I'm sure we can completely unravel any credibility we've built up. The sanctity of the Cricket World Cup has been saved!"
- The weekend is over, and I have to say the V8 Supercars are pretty cool and so is the Bathurst 12 hour. Wouldn't it be cool if the V8 drivers got to take on these internationals in Ferraris, Porsches, and McLarens instead of taking part in some contrived media event! Wouldn't it also be cool if fans weren't elitist and obnoxious chuckleheads who pointed out obvious or trivial facts to try to prove their superiority and belong to an internet forum.
We can all dream, I guess.
————————————————————————————————————————————————————-
Twitter: @dannycatsteve
Cover Photo: By Bidgee (Own work) [CC BY-SA 3.0], ">via Wikimedia Commons