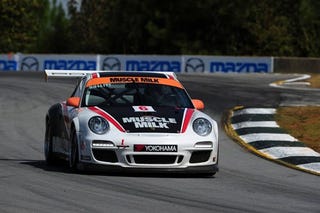 2013 P1 champion Muscle Milk Racing has been looking for somewhere to race next year with the end of the P1 category in America. Now it's reported he's planning a GT campaign with a manufacturer currently not represented in next year's series. Let's look at his possible choices.
Team principle Greg Pickett says the plan is to take a current GT3-spec car and get it approved to race the GTLM category against manufacturer teams from Corvette, Viper, and Porsche. That narrows down his choices. Here are the potential cars they might be racing next year.
Ford GT


(Photo: David Merrett)
Lamborghini Gallardo LP600


(Photo: Jason Goulding)
McLaren MP4-12C


(Photo: jfhweb)
Mercedes SLS AMG


(Photo: oalfonso)
Nissan GT-R


(Photo: jfhweb)
Other options include a Mustang, Morgan Aero Super Sport, Venturi GT3 Heritage, Ascari KZ1, or Maserati Coupe Grand Sportif Light. However, these are not popular GT3 cars, and Pickett really wants to be competitive (and get paid, most likely).
What car do you hope to see in Muscle Milk livery next season? Let us know below.
(Source, sportscar365)