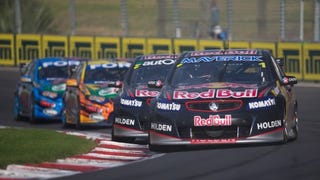 Marcos Ambrose punched a guy, and it wasn't even over a win at Bathurst. But, the world of racing is buzzing about things that happened on-track, too, and your third favorite purveyor of tacky opening paragraphs is here to review all that action!
NASCAR Sprint Cup Series
It's true, everyone's favorite Australian Richard Petty Motorsports driver punched everyone's second favorite member of the Mears family. However, that wasn't the most exciting thing that happened at Richmond this weekend. In fact, the Sprint Cup race from the track was spectacular in many ways, from beginning to end.
Tire issues plagued the race from the start, again the fault of teams pushing camber settings to new extremes and Goodyear failing to respond to a series-wide increase in downforce mandated by NASCAR. Though this was dangerous (It produced three spectacular fires over the course of the weekend's 300 mile event), it also lead to a focus on tire conservation that made for a very interesting race. Rookie Kyle Larson started on pole thanks to a fast lap in practice and a rained-out qualifying session, but that wasn't to last as second place starter Clint Bowyer would go on to wreck him on lap 1, before the pair so much as made it to turn 3.
Bowyer would soon find himself among the group with tire issues, which notably for him lead to a massive right-front fire so hot that would melt his Camry stock car's nose. Jimmie Johnson, Kurt Busch and a flurry of backmarkers found themselves in this group as well. Up front, drivers like Jeff Gordon and Kevin Harvick lead most of the race, but a flurry of late cautions changed everything, and with 15 laps to go, the race got even more interesting.
When the race restarted for the final time, Matt Kenseth appeared to sail away with the lead. However, Jeff Gordon soon caught him, and applied pressure that slowed the Joe Gibbs Racing driver. The result was Brad Keselowski joining the battle, and as Kenseth worked to block now two drivers, Joey Logano came from two seconds back to join in the fight as well. With five to go, Logano saw an opportunity to dive to the inside of both Gordon and his team mate Keselowski, and he took it. One lap later, he had sailed by both and gotten underneath Kenseth, who he soon cleared. He would lead the next five laps and win the race.
After the race, Keselowski voiced his frustration with Kenseth by stopping in front of him on the cool-down lap, leading to damage for both Kenseth and the cars of Dale Earnhardt Jr and AJ Allmendinger, who couldn't avoid his stopped car in time and tagged his rear bumper on either side. A few minutes later, this happened in response to an unseen incident in a fight for 18th on track. NASCAR is reviewing the latter incident, with penalties potentially looming for both Ambrose and Mears.
Logano, as a two time winner, locks himself into the series's "Chase" playoffs, joining Harvick. Dale Earnhardt Jr., Brad Keselowski, Carl Edwards, Kyle Busch and Kurt Busch, each with one win, are all but certainties for the postseason as well.
Verizon IndyCar Series
Two years ago, Alabama's Barber Motorsports Park was known for its processional IndyCar races, free of on-track passing and, generally, intrigue. The arrival of the DW12 in 2012 changed that, and since the track has been host to two great races. Today, it looked as if a third was in the cards, but rain threatened to stop it from ever happening.
However, after two hours of delay for significant and severe weather, the 5th Honda Indy Grand Prix of Alabama was underway. Polesitter Will Power lead early, but had an unforced error just a few minutes in to what eventually ended up being a time-guaranteed race, ceding the lead to Andretti Autosport's Ryan Hunter-Reay. The track soon dried completely, and after a few minor incidents (Two of which involved Mikhail Aleshin), Hunter-Reay romped home to his second consecutive win at the tight and twisty Barber track. His team mate Marco Andretti put on a surprising drive to finish second, completing a 1-2 for Andretti's family team.
Power's issues weren't enough to derail his race, and by extent, the luckless Australian finds himself in a very familiar position: Leading the championship before Indianapolis. The series next races in the controversial (READ: Absolutely nobody thinks it's a good idea) Grand Prix of Indianapolis, set to take place on the legendary Indianapolis Motor Speedway's less-than-legendary infield oval.
Australian V8 Supercars
In recognition of the ANZAC Day holiday, the V8s raced four times today over three days, all at the Pukekohe Raceway Park in New Zealand. The first race went to Jason Bright the second to Ford Performance Racing's Mark Winterbottom, the third to New Zealand native Shane Van Gisbergen and the fourth again to Winterbottom. Scott McLaughlin took two more poles for Volvo's new S60 racers, and converted both into podium finishes, but is still yet to take a victory in a points-paying race for the Swedish marque.
In scoring the most points over the course of the weekend, Mark Winterbottom would also take home the Jason Richards memorial trophy. He now leads the series championship by over 100 points.
NASCAR Nationwide Series
Is Kyle Busch's reign as Nationwide Series race ruiner over? No. However, a month-long lapse in his dominance is certainly appreciated.
Kevin Harvick dominated this weekend's event in Richmond, making three consecutive victories for the suddenly dominant JR Motorsports organization. That team now had 33 top 10 finishes in 33 entries since Daytona, and though they missed out on having all of their cars in the top 10 in every race because of that event, the team was victorious there as well.
As Cup series drives like Harvick are ineligible for points towards the driver's championship, Chase Elliott now holds a dominant 19 point lead over his JR Motorsports team mate Regan Smith. The series is next in action at Talladega, next weekend.
MotoGP
Argentina's gorgeous Autódromo Termas de Río Hondo was the site of the third round of the 2014 edition of motorcycle racing's most advanced spectacle, and it was also the site of the incredible reigning champion Marc Marquez's third win of 2014.
The Spaniard bested Dani Pedrosa and Jorge Lorenzo, both also of Spain, to complete what is already a hat trick of victories. Obviously, his perfect-to-date 75 points leads the championship dominantly.
Also In Action
Also in action this weekend were MotoGP's Moto2 and Moto3 divisions, IndyCar's Indy Lights Series (Click here for race 2) and Pro Mazda championship (Click here for race 2), NASCAR's K&N Pro Series East, the ARCA Racing stock car series, the World Superbike Championship (Click here for race 2) and both the TC and GT (Click here for race 2) groups of the SCCA's Pirelli World Challenge. Click the hyperlinks above for the finishing orders of those races, and if you'd like full recaps of them in future weekend reviews, ask for as much in the comments, as we are here to cover the races you want to know about.
Particularly of interest is that Pirelli World Challenge Touring Car race, where friend of Rennsport (And contributor to our endurance racing pre-race guides) Shea Holbrook took victory in the TCA class and finished second overall, ahead of all but one of the faster TC class cars. The second World Challenge TC race of the weekend was unfortunately cancelled to accommodate IndyCar's rain delay.
Next weekend is a quieter one, with most of the action taking place at Talladega, where NASCAR's top two series are in action. However, other racing will be happening as well, so be sure to join us for the full rundown on everything.
(Cover photo via V8Supercars.com.au)