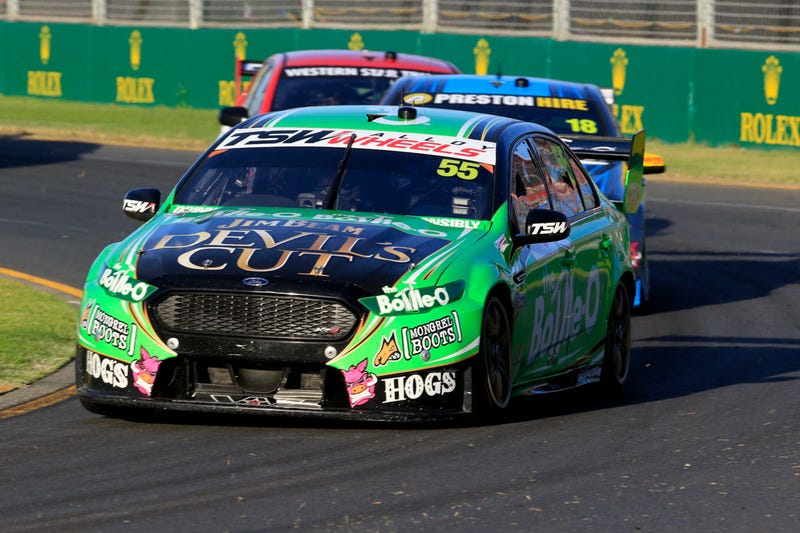 David Reynolds was fuming following contact that dealt a huge blow to his championship aspirations in the first V8 Supercars race at Phillip Island on Saturday.
Shane Van Gisbergen hammered the back of the Bottle-O Falcon, sending it pirouetting into the grass. Reynolds finished the sprint race dead last and lost significant ground to his stablemate, Mark Winterbottom, in the title race.
The strife between the Kiwi and the factory Ford driver started in turn one on lap one where the Falcon forced the Tekno Commodore out wide - although probably without malice - and caused Shane to lose ground. Van Gisbergen expressed his displeasure through morse code on the back of the green car at Siberia, allowing him to slip slightly up the inside, and that's when the controversial incident transpired.
Van Gisbergen copped a 25-point penalty at the end of the day but immediately following the race, Reynolds was severely agitated - giving the Holden racer a huge verbal sledge.
http://www.dailymotion.com/video/x3euk6w
David then went to the Tekno hauler to have a discussion where Shane voiced his irritation at the turn one incident. Reynolds then told SVG straight to his face that he was "dead to him." Later, Reynolds would also say that he should incur a $50,000 fine and have a "pineapple shoved up his arse."
Mark Winterbottom called conspiracy among the Holden drivers post race as his title lead shrunk by another small margin. Reynolds ended the day 277 points behind Frosty -making things difficult for the departing Ford driver from here. The round finale - a 200-kilometer race worth 150 points - will be run tonight at 10:00 PM eastern time.
(cover image provided by V8 Supercars)