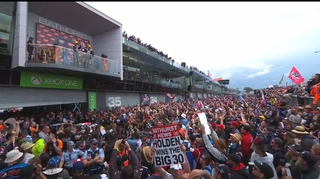 Another amazing Bathurst 1,000. It didn't have ending of the last few years but it was perhaps the best overall race of the lot. Lowndes has further cemented himself as one of the all-time greats and Richards adds to his impressive tally. Next year will be the final V8 Supercar race at the mountain and I already can't wait.
Thank you for sharing my passion of this race. I truly believe it's the best in the world. Until next year, Mount Panorama. Wait, I'm forgetting something...
Oh yeah. The Dumbrell gutted trilogy concludes!
- Scott Pye may have been knocked out in his crash and could have a few broken ribs according to a report from Fox Sports Australia. Here's hoping the best for him.
- Craig Lowndes now has more podiums than anyone else in the history of this event. I don't know of a driver as adored by fans as Lowndes is. The chants for him at the podium confirm his status as a legend.
- Frosty has a 399 point lead over Lowndes heading to the Gold Coast 600. He and Steve Owen are in a good spot to win the Pirtek Endurance Cup.
Here is the full finishing order:
CRAIG LOWNDES AND STEVEN RICHARDS WIN THE 2015 SUPERCHEAP AUTO BATHURST 1,000 FOR RED BULL RACING AUSTRALIA AND HOLDEN!
It's a sixth win for the great Lowndes and fourth for Richo.
Winterbottom/Owen in second and Tander/Luff in third.
Lap 159: An angry Whincup smashes the lap record with a 2:07.1
Lap 157: You have to wonder what this run home would've been like had Whincup not been around to create a buffer. Looks like a Lowndes/Richards victory is a certainty.
Lap 153: It doesn't seem like Frosty has enough for Lowndes at the moment. Tander lies 1.5 seconds behind. Van Gisbergen continues pressuring Reynolds.
Lap 148: Lowndes holds a three second margin SVG harasses Dave for sixth.
Lap 145: Coulthard dive bombs Reynolds and Frosty nips them both! Whincup serves his penalty. Tander out of NO WHERE to third. Reynolds slips back to fifth. This will be good!
Lap 144: RESTART. Here we go. A six car shootout to the end!
Lap 142: MORE DRAMA! Whincup passed the safety car! He's under investigation. Apparently he was told to double stack but went around, anyway. Can you believe this? Lowndes leads Whincup, Reynolds, Coulthard, Winterbottom.
Lap 140: Huge hit for Pye triggers a safety car! Leaders pit and the Bulls come out first and second. Frosty suffers from a longer stop and drops a few spots.
Lap 137: Frosty desperately trying to get past his teammate. First four cars are could be covered by a blanket. Ash Walsh clipped the wall at the Cutting and is crabbing its way to the pits.
Lap 133: Here's the running order as we we enter the final hour:

Lap 130: Terrible drama for the Newcastle Knights with smoke coming out the back. They've stayed out a lap now which means the track could be really slippery. Lowndes and Whincup right on the rear of Winterbottom now.
Lap 128: No pads for Reynolds either. He gets out ahead of his teammate and the two Red Bulls.
Lap 127: Lowndes and Winterbottom in. Pads for #888 and the Falcon gets out in front! Both Red Bull Holdens have fresh brakes for the end.
Lap 126: McLaughlin and Pye in now. Everyone needs one more stop after this to make it to the end.
Lap 125: Whincup returns to the throne of car #1 to bring it home. A mechanical black flag for Dale Wood is withdrawn because the debris fell off.
Lap 123: Rain is starting to fall again and Paul Morris gives another awkward interview. He'll deliver a perfect one in 22 years. What a tense finish this is shaping up to be. PRA vs. T8 again!
Lap 120: Van Gisgerben back in #97 with Webb completing his minimum driver time. Lowndes takes the lead at Griffin's Bend and Whincup goes to third. Frosty now pressuring McLaughlin. Car #14 not far behind this main battle pack. Ryan Walkinshaw is mad.
Lap 117: What a finish this is building up to. Winterbottom was the fastest the last lap and Lowndes is pressuring Reynolds. Tander's complaining about Ash Walsh - who's a lap down - blocking him.
Lap 113: Rick Kelly sends Alex Davison launching and readdresses the position. Lowndes goes up to second after struggling in the wet. Frosty is all over Dumbrell.
Lap 110: McLaughlin goes to second as Dumbrell comes under more and more pressure. The all Davison Mercedes is going to attempt to make it on one more stop as Will pits. Lowndes now takes third. Frosty's up to fifth.
Lap 107: #97 and #18 pit. Dumbrell loses the lead to Reynolds as Triple Eight try to rectify their sensor issue. Still unsure whether the procedure has cured it.
Lap 105: Van Gisbergen goes to the grass on Conrod to keep his wets cool like at Eastern Creek. He's a bloody mad man but we love him. Whincup will pit for a driver change. McLaughlin, Youlden, and Ingall all put on slicks too.
Lap 104: Frosty is the first to gamble with slicks as SVG pulls off a monster move to get sixth from Pye. #888 comes in next and talk is that Dumbrell will get in for one more stint so Whincup doesn't exceed the driving time.
Lap 100: Van Gisbergen goes three wide into turn two for 9th and gets it! Reynolds is on fire and gets second place back. Car #7 gets a mechanical black flag for loose rear bodywork. Now Holdsworth and McLaughlin who are quick in the wet, are pressuring #888. Whincup has a 33 second gap.
Lap 97: Fiore squeezes Tander and GT has none of it. Reynolds passes Ambrose for fourth. Some throttle sensor problems for car #1 but the lap times are fine. Here comes Ingall now on Ambrose.
Lap 93: Whincup is staying out as everyone pits due to the rain! Finally, the engineers convince him in. Webb went off at the exit of the Chase on the in-lap and just managed to gather it. The race is going off! #2 comes in as well.
Lap 91: Starting to rain as Pye gets fourth from Youlden and now he's pressuring Webb at the moment.
Lap 90: The weather is toying with everyone. Whincup has a 5 second lead.
Lap 87: After an awkward interview between Paul Morris and Steve Hallam, we resume regular service. Russell Ingall has reported some rain at the top. Three Nissans locked together in the midfield.
Lap 83: Here's your running order behind the safety car. They'll restart on lap 84.
Lap 82: Blanchard clipped the wall and it unsettled the car. Steve Owen barely escapes getting caught up in it. An awkward moment between Youlden and Webb before the #14 finally lets #97 have its place.
Lap 80: Safety car #3: Huge hit for Blanchard! The car is totaled. He's okay, thankfully! Pit stops for key runners.
Lap 80: 20-30 minutes until the rain hits, according to PRA. Here's Scott Pye driving with his knee.
Lap 78: Whincup's turn to drive again. Dumbrell's done the minimum.
Lap 76: Rain looks certain now. Tander brings in the Dark Side Commodore and after a slow brake pad change, they get out. Luff gets in. The Freightliner Commodore comes in the next lap. Youlden's in for another run.
Lap 74: Ambrose brings the Xbox Falcon in to hand over to Pye, who steers with HIS KNEES on mountain straight while tightening his belts.
Lap 73: Canto pits the #55 and stays in to complete the compulsory drive time. Rain looks really threatening now.
Lap 72: Tander is up to 5th after passing the two green Falcons of Canto and Ambrose.
Lap 70: Owen comes in for a scheduled stop. Brakes, tyres, and fuel, but no driver change. They come out in 22nd.
Lap 65: After 400 kilometers, the clouds move in and the threat of rain grows just a bit more. The top four are about equal in sector times according to Neil Crompton.
Lap 61: Lowndes sets the fastest lap of the race at a 2:07.72. Car #1 has jumped back to the lead.
Lap 60: Premat brins the Volvo back in for Scotty as they perform a break pad change. They stall briefly on exit but get it going again. Alex Davison serves a drive through penalty for his brother's actions that ruined Gavin's and Percat's race.
Lap 58: Lowndes hops back into the #888. LDM gets the #222 back out. Van Gisbergen's getting for a stint in the Tekno Commodore.
Lap 56: Canto's air hose wasn't hooked up to his helmet and was flailing around in the car. He seems to have connected it now. Oli Gavin in #222 comes into strife with Will Davison and goes into the Elbow with the rear. Dumbrell pits as this unfolds and stays behind the wheel; he rejoins in 12th. Canto's back in #55, Ambrose still in #17.
Lap 55: End of hour 2 and the Supergirls barely get back out in time to be classified! Tim Edwards confirms they chose to cop the penalty as it was really their only option. Stops for the key runners, but here's the running order before those cycle through:
Lap 51: The hits keep coming. A 15-second time penalty on the next stop for #5 for disobeying the mechanical black flag, apparently.
Lap 48: PRA brings the ailing Falcon in for a driver change and to amend the issue. Owen goes back out and all systems are go. Now it's time to fight their way back up the order. Dumbrell continues to lead.
Lap 47: Black flag for Fiore in the #23 Nissan for restart procedure violations. PRA attempting to work up a solution to the Pepsi Max Falcon's problems.
Lap 46: Mechanical black flag for Frosty Winterbottom! Car #5's brake lights are malfunctiong along with the dash. What a horror weekend for Prodrive so far.
Lap 44: Frosty applying the heat to car #2 of Warren Luff for 12th. Factory Ford vs. factory Holden.
Lap 42: Display dramas for Frosty on his steering wheel. Looks like the old FPR woes are coming out to haunt them. Car #1 brushes the wall at the Elbow.
Here, have a gif:
Lap 39: Restart #2: Dumbrell leads them back to green. Most of the co-drivers from the last stint stayed in for another stint. Pit lane penalty for Reindler in the #3. Frantic action as racing resumes.
Lap 37: Safety car #2! Ant Pedersen gets turned by Karl Reindler off Hell Corner. The yellow triggers stops for cars #1, #55,#33, #14, and #22.
Lap 35: Second sequence of stops now. Pye, Richards, and Slade all come in. Ambrose steps in the #17. Premat runs wide at The Chase and Webb goes to second! Slade and Lowndes back in their respective cars as Jack Perkins misses pit entry! Oli Gavin in from 10th on lap 36. Some wheel nut drama for them.
Lap 33: Premat recognizes that resistance is futile and Whincup becomes the third leader of the motor race just past the 200-kilometer mark. Car #111 is in for a stop.
Lap 31: Start playing the Jaws music! Whincup is lurking and the gap to Premat is just half a second.
Lap 26: At the end of the first hour, the #33 Volvo leads. Whincup is charging to the front as Bourdais loses out. Damage to the rear appears to be impeding Frosty just a bit. Here's the running order:
Lap 24: It's a four car battle pack over second now with the main drivers buying in. Stevie Richards is duking it out with Bourdais, now. Battles through the entire field in what's been an entertaining opening to the Great Race.
Lap 21: Reynolds usurps Damien Power's sworn enemy at The Chase and Whincup follows him through. Now Davey sets his sights on Youlden, Webb, and Premat ahead.
Lap 20: Both Red Bull cars get past Alex Davison in the Penrite Mercedes. Meanwhile, McCauley Jones gets roughed by Darth Luff in the #2 and drops several positions after being unsettled.
Lap 18: Paul Morris comforts Renee Gracie. Restart #1. Reynolds tries to pass Bourdais who has none of it. Frosty, Whincup, and Tim Slade are the other main drivers in who should reap some benefit right now. Whincup gets past Richards for 7th.
Lap 17: Gracie somehow dug it out of the wall. They may not be completely done yet in terms of running. Rest of the field stops. Looks like the expired S60 engine buttered up the track and the #200 was the pioneer.
Lap 16: Smoke from the back of car #34 and the Supergirls car is in the wall at the elbow! Safety Car! A sleuth of pit stops including the #888, now piloted by Richards.
Lap 14: Coulthard pulls off a brilliant crossover move to get into third at The Cutting. Frosty Winterbottom is set to get in the Pepsi Max Falcon on lap 15.
Lap 13: Stops starting to rattle off now. #23 Nissan on lap 11 was the first, #3 with Blanchard on lap 12, and cars #47 and the #17 XBOX Falcon on lap 13. A bit of trouble for Pye and DJR as they stall on exit. The on-track battle for now is for third between Holdsworth and Coulthard.
Lap 9: Dumbrell SWERVES on Dr. Andre Heimgartner and the two battle up Mountain Straight. Car #1 prevails for now. Lowndes moves up to 9th past car #47 and Dumbrell gets Slade on the next lap as well.
Lap 7: The Bottle-O racer is dropping like a fly now. First Coulthard and then Will Davison in the Erebus entry follows throw. The order is #33, #97, #18, #14, and #9. Paul Dumbrell is on the outside of the top ten, battling with Craig Lowndes.
Lap 6: Holdsworth now trying to get past #55. Meanwhile, Davison moves past D'Alberto. After a similar start to the 1995 race, the leaders are starting to gap but it's still tight battles through most the field. Leethal moves into third at Griffin's Bend.
Lap 4: Van Gisbergen dispatches of Canto quickly and it's an all-Kiwi battle at the front. Moffat in the Nissan and Owen in car #5 were losers on the start. Tander's made up four spots.
Lap 3: SVG goes to third. A train forms behind Canto as Scotty goes to the lead in the Volvo off the final corner. What a battle pack!
Lap 1: Bright went no where and it was a bit chaotic at Hell corner. Clean first lap as Reynolds leads the way, chased heavily by McLaughlin. SVG has a look at Holdsworth in the Chase for third but can't get it done.
AND OFF WE GO FOR AUSTRALIA'S GREAT RACE! THE 1,000 KILOMETER JOURNEY BEGINS AGAIN!
WARM UP LAP: Not long to go!
- Holographic drivers on the grid!
- Time for the driver intros. Lowndes is smiling as always.
- It's time for the predecessor of Larko's whiteboard: Murph's touchscreen.
- PRA has some good humor:
- BEST TRACK MAP EVER
- What an intro by V8 Supeview! They nailed it again. The driver parade has started now and it's raining slightly.
- Let's watch Carrera Cup
- If you're not eating pizza while watching this race, you're doing it wrong. Post pictures of your pizza so I know whether to block you or not.
- "This is the most wide open Bathurst I've ever seen." - Mark Skaife