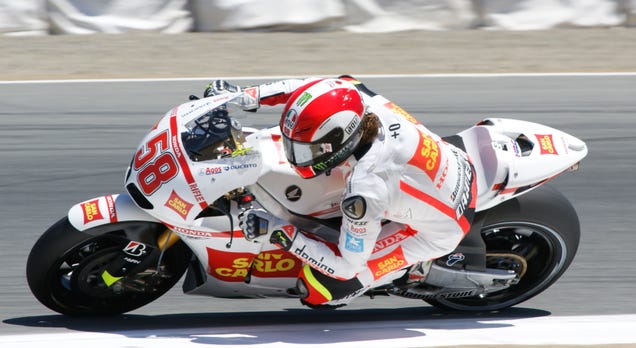 For those of us who love the world of motorsports, we are well aware of the risks drivers and riders take to perform week in and week out.
We know that, tragically, some of them die under the banner of racing. I am grateful for all the risks they take in the name of sport, which makes me feel guilty over the fact that are some drivers and riders I will miss more than most.
Super Sic, aka Marco Simoncelli, is one of those.
Every year since his death on October 23, 2011, it still feels like an incredibly raw and painful loss. We assign racers roles to help us categorize and describe them. Some series naturally bend that way. The bad boy, the guy or girl next door, The Savior, The Alien, The Legend from Scotland, etc. Very few sit outside their PR box or defy description. Marco was one of those unique characters that's hard to replace and hard to define. He was a rider as rock star in the making. A bad boy on the track pissing off numerous co-racers with his risky antics, and thrilling those of us who watched his every daring move. Super Sic had a ways to go in MotoGP. He had yet to win a race, and had reached the podium twice in his final year. He would, given time and maturity, been one of the true greats. I'm sure he would have won a world championship in MotoGP. In my opinion, a great racer takes great risks, then it's up to his team, managers, coaches and whomever, to help him or her find a balance between risk and studied calculation. Marco was one of those. It also takes time. Very few find that balance right off the bat, or naturally. Marco ran out of time on the track in Sepang, at the Malaysian Grand Prix, in an accident that could have happened to anyone who puts bike to track with other high speed racers. His death at the age of 24, was a shock that was felt through out the MotoGP world, and amongst his family, friends, and fans. We will never forget.