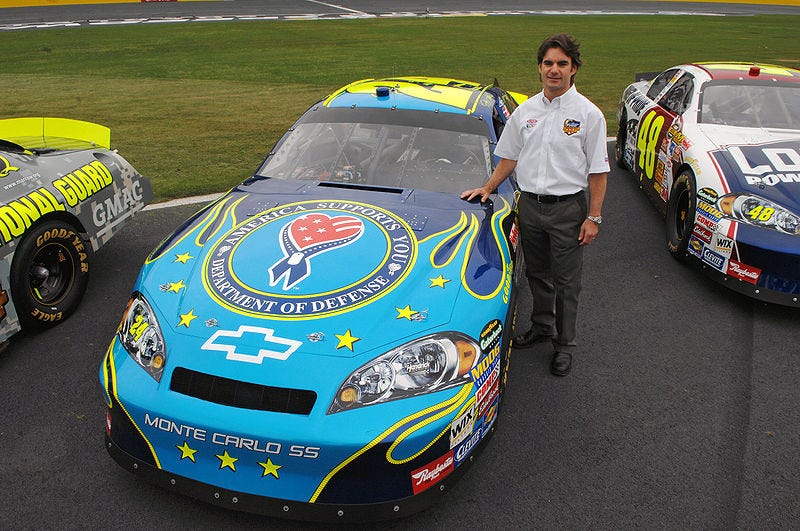 Photo credit: William D. Moss. Public domain.
The following is based on a series of accounts accumulated over the years from sources of various credibility. Some facts may be contested in the complicated narrative of American motorsports.

1993 marked first seasons for two unrelated drivers, both named Gordon.
One was a phenom, darling of a cable sports network, a Californian in forty-nine states, and a Hoosier in one. His upside unmatched and his team growing into a multi-car threat, he was just a bit of patience away from supremacy.
The other was no less capable, a champion already in off-road racing and a winner of Florida's endurance races. His aggression uncontained and his team believed to be some distance from modernity, though, left the other Gordon, once Ford's racing prodigy, surrounded by far less optimism.
The first, under the guidance of a car-dealing mogul from IMSA and an ex-racer with a knack for chassis, became a name not unfairly thrown around in "greatest of all-time" conversations.
The second, then governed by the iron fist of a man romanticized so dearly as engineering with a sledgehammer, and later by no one but himself, proved gifted yet polarizing to the point that any of his accolades, spread across so many disciplines as they were, never made it to the forefront.
In the U.S. public, neither did IndyCar, leaking its viewership year-after-year until the numbers were so low that losses could barely be significant.
That was Robby, the second Gordon's, series in 1993.
The first? He was Jeff, and he was in NASCAR, already surpassing IndyCar in popularity and on the verge of an upward explosion.
This is the story of these two drivers and the interconnected paths they took through motor racing, in a state not caused by either, but accounted for well by their intersecting careers.
There came a time
A.J. Foyt owned the car Robby Gordon drove in 1993. Gordon was everything Foyt had been in his journey to four Indianapolis 500 victories, save for popular, and the inherent versatility of being Foyt-esque seemed to cater to CART's diverse schedule. Foyt himself would not be contesting that championship; he hadn't completed a full season since 1988, whether by plan or not, and his focus would remain on the efforts of Gordon.
Fiery but accomplished even in the patience-necessitating endurance circuit, Gordon showed promise early, bettering any result he had in a brief stint at Chip Ganassi Racing the year prior with a podium finish in the opening round at Australia. Foyt's team was rarely classified so highly as third, and it appeared that Gordon could be part of a turn-around.
Yet it was Gordon who turned around, instead, and did so in the wrong direction. He crashed in the next race, on the Phoenix oval, and was disqualified from the Long Beach round after colliding with Eddie Cheever in an incident where the blame was placed on Gordon. Heading into Indianapolis at age twenty-four, just two years shy of the age Foyt himself had been when he won his first 500, there seemed to be a long way to go in the development of Robby Gordon as an IndyCar racer.
If practice made perfect, Gordon was right to be on the track before Pole Day to log final laps before a qualifying run in the afternoon. If practice must be perfect to be effective, though, Gordon had erred, crashing into the speedway's retaining walls. His car was damaged, and his reputation given little better.
Foyt, both a driver and a team owner for this race, realized that he could not do both anymore. Gordon's wreck had placed too much stress on the team, and Foyt had to oversee that effort rather than focus on running his first race since the prior year's Indianapolis 500. He got in the car one more time after Gordon had crashed, with one purpose in mind, knowing full well that he was not on the track to make those pre-qualifying adjustments, but to instead make a post-career farewell to those who had supported him.
Through sobs over the public address, Foyt managed to get out the words. He had retired from driving.
If Gordon had not been maligned yet, blame, whether misdirected or fair, had now been hurled onto him as the one who ended the run of A.J. Foyt, Indianapolis 500 staple since 1958. The one who finally pushed Foyt too far and forced him to commit to those words he had thrown around for years. The one who had taken away that one thing from the old days, something enduring from a different time when racing was centered on notions now lingering only in nostalgia.
These fans weren't going to be calling California's Robby Gordon an American IndyCar hero, and though Unsers and Andrettis would be in the eventually-set 500 field that year, the one the sport had always had was gone.
Seeing double
The next one wasn't coming.
At least Tony George, now in charge of the Indianapolis Motor Speedway (IMS) and wanting more power within CART, didn't think so.
As early as 1990, George had made a proposal for a new series, one that would run alongside CART's tour if it could not replace it, effectively creating two parallel IndyCar Series. Propositioning what would become the FIA, sanctioning body of Formula One and most world motorsport, George intended to launch an international series around the Indianapolis 500. Each nation would have its own oval race, with an Indy 500 of its very own featuring cars based off of those employed by F1.
George was laughed away. His plan to bring the speed and excitement of American motorsport to a global stage did nothing for the European-based racing bodies, and an alliance was never formed.
George wasn't done, though. His worldwide championship was not a dream grounded on the principles of "that would be cool;" it was a response to what he perceived to be the loss of the United States within CART. Drivers were internationally trained, even if racing under U.S. licenses like Danny Sullivan or Eddie Cheever. The connection to the grassroots, to USAC's midget and sprint car racing, to the "car guys," the "racers," that was, in George's mind, long-gone. Someone like A.J. Foyt, a midget and sprint racer himself from the dirt tracks of rural America, would not be given a chance in IndyCar now, George, who had raced in the CART feeder series himself, reckoned.
He wanted to change that.
If George had his way, a path would be paved for drivers like Jeff Gordon, the face of USAC racing to many through ESPN's Thunder program, to become the next generation of Indianapolis 500 stars.
There was no reason to believe that Gordon wasn't interested, either, in those earliest years of the 90s. His stepfather, John Bickford, had moved the family to Pittsboro, Indiana when Gordon was young to pursue opportunities in auto racing, and Indiana was no hub for Oldsmobiles and Thunderbirds. Gordon did express an interest in stock cars early in his career, of course, but never in a way that precluded Indy-style racing. Phone calls by Bickford and Gordon to CART teams confirmed that there was an interest, even if it was not the primary target.
The two visited the CART paddock, apparently not deterred by the lack of response to their initial inquiries. The pull of Indianapolis was, after all, still large, and Gordon dreamed of that race more than any he could have entered in a stock car.
The team owners were less attracted to Gordon, though. Drivers with Formula One heritage were seeing CART as an alternative, following the leads of World Champions Mario Andretti and Emerson Fittipaldi. It offered closer competition without sacrificing the high-tech, high-speed lure of the world's largest racing tour. Taking a gamble on someone who was no closer to the streets of Monte Carlo than the East Coast of the United States, and had never piloted a rear-engined, high-downforce race car, was not worth it in the high-stakes world of IndyCar racing.
Foyt, however, did have time for Gordon.
It wasn't a test session, no. He wasn't going to do an American Racing Series (now Indy Lights, by way of an even more complicated history in the ladder series) program to give Gordon experience on road courses and with more similar vehicles. He didn't have tips on tuning out the critics, or converting one's style from the more old-school USAC to the modern CART.
He simply told Gordon to go to NASCAR.
Foyt was unimpressed with the other owners in CART, and with how it had evolved from his own days. NASCAR, however, had that same spirit, that open-garage, dirt-on-the-face, everyday-people-with-a-hobby-you-could-only-dream-of feeling. It was the grassroots racing, just consumed by a national audience and backed by reputable brands. That's where Foyt, a NASCAR veteran himself, saw Gordon, and he encouraged the pursuit of it.
Gordon followed, whether influenced by Foyt or not, and he and Bickford never contacted CART again. Following a test in a primitive formula car, Gordon declared that his intentions were squarely on NASCAR, and ESPN, television partner of both the stock car circuit and CART, saw an opportunity to transform their Thunder star into the ticket for tremendous audiences on the NASCAR telecasts. He was, after all, young, marketable, exciting, and totally different from anything NASCAR had seen. He could reach someone new, someone watching other cable sports programming but not yet ready to give stock car racing, perceived as it was, a chance.
So, ESPN funded Gordon's trip to Buck Baker's stock car racing school. Gordon never looked back, racing in the Busch (now Nationwide) Series for Bill Davis, and signing with Hendrick Motorsports, a rising team in the championship, to enter Winston (now Sprint) Cup.
In 1993, as Foyt was leaving CART, Jeff Gordon was leaving behind dreams of ever running it. He was a rookie in NASCAR's top division, having debuted in 1992's final race, and still Indianapolis-bound, with a Cup race planned at the Brickyard for 1994. Gordon had the best of both worlds, swayed by Foyt and ESPN, among others, not to run a series Foyt made his most fame in, and that ESPN carried.
Foyt and Gordon would still be around Indianapolis, but for what they were and what they were going to be, both were effectively gone.
Corrective lenses
Tony George was not.
Perhaps fueled by the fact that the only Gordon left in open-wheel was the one who could not seem to finish the distance of any races while the other was accumulating top fives in the major Daytona 500 and Coca-Cola 600, an event that shared Memorial Day weekend with George's Indianapolis 500, the IMS President drafted a new plan. It was his vision, to bring IndyCar racing back to the past in order to secure its future. In May 1994, the Indianapolis Racing League (IRL) was a reality, set to go racing in 1996. The Indianapolis 500 would be a part of it, and not of CART's now inappropriately-named IndyCar Series.
George considered other factors beyond just the American identity of the sport. He felt that the Indianapolis 500 needed to play a central role in the series, and that CART had diminished its significance. He also believed that other constituents, namely track owners like his family, should be given more consideration in decision-making.
The IRL of May 1994 would use the same technical regulations as CART, allowing the teams and drivers already established in the series an opportunity to participate in, at a minimum, the 500, to be dominated by Team Penske at the end of the month and won by Al Unser, Jr.
With that story surrounding the Indianapolis race, the timing was perfect for NASCAR, still undergoing growth and seeking acceptance amongst a national market. That evening, there would be no worries about the future of NASCAR, as there were with IndyCar racing, and no stories with even the slightest amount of negativity.
After all, Jeff Gordon, then twenty-two, had won his first Winston Cup race. The most Indianapolis moment of racing that day had happened in Charlotte.
It was becoming little wonder why George, no matter how one felt of his ideas, had admired NASCAR enough to publicly wish to model his IRL after it to some extent. With the approval of Bill France, Jr., NASCAR's leader, George felt validated in a quest to bring the excitement of a first-time stock car win to the form of auto racing that had preceded it, and to bring it to his track.
Jeff Gordon won that race, too, in August of 1994, to a prophetic call from Bob Jenkins, comparing Gordon's accomplishment to that of Ray Harroun, the first Indianapolis 500 champion, as if Gordon and the Brickyard 400 were about to trigger a complete renaissance of American auto racing.
They were, and even A.J. Foyt was on-board, finishing thirtieth in his grand return to IMS at the wheel of a Ford stock car.
No Gordons
Robby Gordon, too, had raced Ford Thunderbirds in NASCAR on a partial basis, even once in 1994. His primary focus, however, remained with CART, where he had joined Derrick Walker's team after a largely unsuccessful season with Foyt. Gordon scored two poles, three podium finishes, and a fifth place at Indianapolis, trailing Unser by one lap.
Gordon would stay with Walker in 1995, and make another run at Indianapolis. Beyond that, however, it remained to be seen which American racing drivers were to be part of Tony George's new series that had hoped to incorporate them. Gordon, after all, was forging his ties in CART, making a name for himself, even if not always for the best of reasons. A rules change for the IRL would require different equipment for a CART team to run the Indianapolis 500.
In January, an IRL calendar was published, with five races, all on ovals and all airing on ABC. The first would be held at Walt Disney World Speedway, a Florida track to be operated by IMS management themselves.
Gordon finished fifth once again in the 1995 edition, and accumulated his only two victories in CART competition. A serious accident at Michigan removed him from the race, just one week after an extremely aggressive drive in Cleveland cemented Gordon's reputation as being unwilling to yield to his competitors.
George, too, was unwilling to yield to CART. When a CART calendar was unveiled with scheduling conflicts that would make it impossible for any interested teams to run in the IRL, as George had hoped they would, a new response was formulated: 25/8. The first referred to the number of locked in positions at the Indianapolis 500, a race that CART teams were theoretically free to enter, that would be reserved for full-season IRL competitors. Only the remainder of the grid would be open to others.
Maintaining his innocence, George wrote that he needed to protect the Indianapolis 500 through the Indianapolis Racing League, and therefore had to create incentives for teams to run the full season when CART made the two series mutually exclusive in scheduling.
CART, owned by the team owners, felt locked out of the 500 by this. The series created its own, to be run on the same exact day at Roger Penske's Michigan International Speedway. The U.S. 500 in the day would feature Walker Racing's Robby Gordon, and the Coca-Cola 600 at night would have Hendrick Motorsports' Jeff Gordon, now a NASCAR champion with seven wins in 1995.
The 1996 Indianapolis 500 would have no Gordons.
With friends like these

The IRL did have A.J. Foyt. If it were to truly fuse open-wheel racing with stock car philosophy, the human embodiment of that would surely have to participate.
Foyt was committed, caught up so much in the IRL's mission that he sued CART and one of its teams, Newman/Haas Racing, for tortious interference and violations of federal antitrust laws over his negotiations with Texaco, a Newman/Haas sponsor that Foyt, a Texan, deemed would be a good fit for his team. The lawsuit's allegations centered on Foyt's paranoia that CART and Newman/Haas used unfair tactics to keep Texaco from joining the IRL. It was only that, though, and neither defendant was held liable, leaving Foyt without relief.
Even without Texaco, Foyt raced. His driver lineup included Davey Hamilton, a Midwestern short tracker who had failed to qualify for the Indianapolis 500 in every prior attempt. A rookie at 33, he was no answer to Jeff Gordon, who had won three of the season's eleven NASCAR races run through Memorial Day, but fell solidly within the IRL's purpose.
Partnered with Hamilton was Scott Sharp, younger, articulate, and a champion of the Sports Car Club of America's various divisions. His background had not yet translated to open-wheel, with Sharp a full-season CART competitor in 1994 who had just two top ten results in his archive.
CART journeyman Mike Groff drove in two of the races for Foyt; he had climbed from Formula Super Vee to CART by way of the American Racing Series, and represented no previously-looked-over category of racer. At Indianapolis, the third car was driven instead by Marco Greco, whose time racing motorcycles, Formula 3000, and CART was populated by DNQs and retirements.
The only USAC driver on Foyt's roster, Billy Boat, failed to qualify for the Indianapolis 500, the sole race in which he was entered.
Most team owners fielded similar lineups of those not quite capable enough in CART, to those not exactly at the forefront of USAC, to those with backgrounds completely unfamiliar to the spectators. In a series where everyone was the underdog, no one stood out.
Except, of course, for Tony Stewart, an Indiana native with quite the record in USAC. Driving for John Menard, Stewart was awarded Rookie of the Year at the 500 by the press, despite crashing out and not really qualifying on the pole (he had inherited it when teammate Scott Brayton was killed, sending the car to the end of the field with replacement driver Danny Ongais). It was necessary to give some kind of honor to the star of the show, the closest thing to Jeff Gordon they could find.
So close, in fact, that Stewart was going to NASCAR. He had been going long before he stepped into IRL machinery. The three-race schedule did not interfere with his stock car ambitions, and allowed him to race the Indianapolis 500 as he had dreamed. It was never intended to be a permanent stop. The calendar could grow with a driver like Stewart pushing the series, but if it did, Stewart would be gone.
After the 1998 season, he was, leaving as a three-time winner and the 1996-97 season champion.
Behind him was an IRL that was beginning to look more like the American Hockey League, filled with 30-something-year-old-couldn't-quite-make-it-in-CART drivers fighting off the sporadically-appearing USAC racers J.J. Yeley, Stevie Reeves, and Dave Steele. Somehow, the IRL had become barely more receptive to grassroots talents, instead serving as a club for those who had aged out of CART or couldn't make it there in the first place even through conventional paths. Those with part-time opportunities rarely gained the experience to develop, and not all of those promoted were the finest, or youngest, of short-track racing's offerings.
Foyt's team won the 1998 championship not with Boat, but instead with Kenny Bräck, an F3000 driver from Sweden. Even the face of Indy racing reform could not resist the success formula car racers would have in an IRL that had not differentiated its cars enough to be a true top step for sprint and midget racers, and had not opened itself up to enough samples to prove otherwise.
As for the driver he had sent off to NASCAR, he was fresh off of a thirteen-win 1998, topping his ten wins in each of 1996 and 1997 and taking him his second consecutive, and third overall, Winston Cup. Jeff Gordon had managed to lose the 1996 battle to teammate Terry Labonte, a Texan whose similarities with Foyt ended there, due to Labonte's unflappable consistency, but even that was no blemish on his dominance.
Gordon was now a two-time Brickyard 400 winner, too, and at twenty-seven, he was the face of a surging NASCAR, finding its way out of regionalism as Indy-style racing was losing its market.
Changing their minds
Winning thirty-three races (then a full season of Winston Cup racing) in three years (dwarfing a seven-win championship season preceding them) could not go unnoticed in the racing community. The boy who was ignored by CART was now of interest to a CART contingent being ignored by more and more race fans.
British American Tobacco (BAT), a sponsor of Team Green through the KOOL brand, wanted a U.S. driver in its Champ Cars (as they were now called, no longer racing in Indianapolis). BAT proposed a plan: place Jeff Gordon in CART for the end of the 1990s, and bring him to what would be BAR (British American Racing) F1 in the next millennium.
Sir Jackie Stewart apparently had a faster track in mind. His Stewart Grand Prix team already existed, and was heavily backed by Ford Motor Company, once supporters of Gordon himself before he defected to Hendrick Motorsports' Chevrolet team as the dominant Monte Carlo driver. Talent was talent, and if Gordon's natural ability in NASCAR could take control of a series with the kind of parity stock car racing could offer, surely he was right for F1.
Neither offer appealed to Gordon, who stayed firmly in Winston Cup to defend his crowns with seven more wins in 1999, falling short of the championship as in 1996 with inconsistent results. Unfit to receive even a glimpse or a polite "no, thank you" from the CART owners due to a lack of formula car experience, Gordon was somehow now in the dreams of the world's most prestigious formula car series.
Yet interest from the racing community barely stated the impact Gordon was making. Instead, those who were seeing Gordon on ESPN, on The Late Show, on Live, and in advertisements were the ones who most needed to be reached. People who had not considered NASCAR, or even racing at all, were seeing a clean-cut, top-level athlete. Young, professional, and personable, Gordon was not what those unfamiliar with NASCAR expected of a stock car driver, and the coverage of him emphasized that NASCAR was, in fact, a credible, national sport.
Though Gordon never won NASCAR's Most Popular Driver Award, it was not the quantity of fans that mattered. The NASCAR traditionalist was more likely to be booing Gordon, leaving the chance that those who were inspired by him had found him as an entry point to the series. They could have been people who had not seen stock car races before, children who liked the rainbow DuPont car, or even IndyCar converts more loyal to their grassroots USAC drivers than to the open wheels.
Gordon was driving to championships, and he was likely driving, at least to some degree, NASCAR's growth.
Number five
Robby Gordon, meanwhile, had run the 1997 Indianapolis 500 for SABCO, his NASCAR team, before returning to CART in 1998. Like Foyt in the past, Gordon would be racing for himself in 1999, with a full CART program and an Indy one-off through John Menard planned.
The CART season was a struggle, but from the fourth starting position, a strategic gamble left Gordon in the lead of the 1999 Indianapolis 500 for the final stint. Fuel would be the concern, and the all-out Gordon was rarely associated with conservation. Pitting five laps before the other drivers, Gordon stretched until the end of lap 198 in a 200-lap event.
Coming to the white flag, Gordon ran out of fuel, ducking into the pits and finishing fourth. Kenny Bräck, driving for A.J. Foyt, passed Gordon to win the race. To those carrying a grudge, Foyt getting his fifth win at Indianapolis, albeit as an owner, against the driver they felt had denied Foyt his last opportunity to do so behind the wheel, corrected at least some of the perceived injustice.
Gordon dropped two expletives live on ABC's telecast, both on the team radio and then in his post-race interview, sounding precisely like the team boss who had released him after the 1993 season.
His words, however, were instead misspoken, with Foyt declaring, "I'm so wonderful," instead of "it's." The people in Indianapolis would have taken either, though, because to them, Foyt was, and the words didn't matter so long that Foyt had made good on the ones he had when he announced his retirement, promising that he'd still be in the winner's circle. There he was, perhaps not with a Jeff Gordon, or a Tony Stewart, but with an oval racing champion now every bit a part of the Indy 500 culture.
Or at least until he decided to leave for CART.
The crossing of paths
Robby Gordon was on the way out of there, though, bringing Scott Pruett and P.J. Jones with him to NASCAR. The deaths of Gonzalo Rodríguez and Greg Moore had left CART, now publicly traded and no longer operating successfully, in an unfortunate place. Gordon was concerned with safety, and partnered again with John Menard to race stock cars.
A.J. Foyt would join them. Though he'd remain in the IRL, a new NASCAR team was set up with sponsor Conseco. Foyt's Pontiacs were in the care of driver Mike Bliss, a USAC standout who had been the king of Indianapolis Raceway Park (IRP), a popular location for Thunder programs and one not far from the Indianapolis Motor Speedway itself. Foyt had no driver like Bliss in his Indy program, though, with forgotten Formula One pilot Eliseo Salazar and motocross champion Jeff Ward on his team for the duration of the season, with USAC's Billy Boat joining at Indianapolis only after failing to qualify in two other chassis.
At the season-opening Daytona 500, Robby Gordon and the first IRL star, Tony Stewart, collided in practice, triggering a shoving match between the two, expressing their issues with a method that seemed true to two drivers who had either raced for or been inspired by Foyt, never shy when it came to conflict. In August, Stewart and Jeff Gordon would have their own disagreement over an incident at Watkins Glen, this time fought verbally. The three young Americans, all at one point perceived to have a bright future in IndyCar, were now pure NASCAR, engulfed in the off-track show and high-emotion atmosphere of an ultra-competitive, occasionally rowdy sport.
Between the altercations, Robby Gordon attempted the Indianapolis 500 the same day as the Coca-Cola 600, as Stewart had done in 1999. Rain delays left Gordon in Indiana for the start of the NASCAR race, and P.J. Jones, racing regularly in the Busch Series, started the car for him. Though he was Parnelli's son, Jones had never raced the 500 by that point, despite having the versatile background of yet another Foyt replica. Jones was a winner in IMSA GTP, racing sports cars so fast that his track records at Daytona and Lime Rock still stand today. He developed Toyota's CART engine, and was a pioneering driver of it, the first to score points sitting in front of one. By the time he left experimental programs to join Patrick Racing, his potential had seemingly passed, save for a close runner-up at Nazareth.
Before open-wheel and stock cars, though, Jones had raced in USAC, suspended once for having a temper not unlike those displayed by the two Gordons and Tony Stewart. Jones had rammed his car into a rivals, catalyzing the administration of discipline. He had battled Bliss at IRP, he had won in national USAC races, and he had run the Chili Bowl to a few near-wins. A candidate as good as any to be part of the IRL instead bypassed it altogether for limited success in CART, and was now in Charlotte for the conclusion of its damp, crown jewel race.
Jeff Gordon underachieved in 2000 relative to his standards, but it was Foyt and Robby Gordon's teams that were truly off the pace. Scott Pruett fared no better, and Jones was bounced out of one Busch Series ride into another for poor performance. Flashes at road courses and IMS highlighted a troublesome transition to NASCAR racing, now so tough that an IndyCar community with talent split across two divisions could never match the depth.
Neither of those fields would get Larry Foyt, either, biological grandson and adopted son of A.J. himself. Foyt had no problem sending Jeff Gordon to stock cars, and offered no more hesitation in allowing that career path for Larry. The 2001 Busch Series, which Larry Foyt contested, also featured the debuts of a Mears (Casey) from Indy Lights, and a Fittipaldi (Christian) from CART. If NASCAR's new fans were truly the ones who had left CART and the Indianapolis 500, they were now being treated to as many open-wheel names as they were to Earnhardts and Labontes.
Few were making an impact, though. Larry Foyt could not keep up with his competitors, while Jones was released from yet another Busch Series ride after just a few rounds. Mears and Fittipaldi each only had one showing, and, on the Cup Series side, John Andretti was caught up in the downfall of Petty Enterprises. A.J.'s team continued to be at the back of the field, even with Truck Series champion Ron Hornaday driving.
Robby Gordon, however, was finally on the verge of his moment.
Injuries to Mike Skinner gave Gordon, displaced from a Morgan-McClure ride and doing his best with Jim Smith's smaller effort, an opportunity to drive for Richard Childress Racing (RCR). Though Skinner returned, he eventually chose surgery, leaving the ride to Gordon for the rest of 2001, and for the future, as the under-performing Skinner would not be back in 2002.
A seventh place-finish at Phoenix was the best oval result of Gordon's NASCAR career that had concentrated most of its success on road racing, though a failure to qualify at Atlanta, where RCR cars were typically strong, two weeks later disappointed. Jeff Gordon clinched his fourth Winston Cup championship in that round.
Still, the season had one more race, with Robby Gordon still in Childress's #31. The round in Loudon, New Hampshire had been postponed due to it falling immediately after September 11 of that year, and would now conclude the season.
With Jeff in first and Robby in second, the two Gordons were finally together, having rarely met outside of IROC, a series in which Jeff was not particularly accomplished. Relentless as ever, and now with the fenders to be as aggressive as he needed to be, Robby pushed Jeff out of the lead, taking his first Cup Series victory.
Jeff Gordon was not impressed, and received the sympathy of many for having a win taken from him like that. Robby Gordon was condemned for an Earnhardt-like move made by a driver the fans saw as no Earnhardt.
Jeff Gordon, though, was not above moving another driver if he had to, and would continue to do so throughout his career. He'd have physical altercations, and go as far as to intentionally wreck another competitor by slowing down on the apron just to get a hit in. His personality was no less dichotomous than A.J. Foyt's, an image of heroism tempered by outbursts of over-competitiveness and downright foul play.
Perception, though, was never so harsh to Jeff as it was to Robby, just as Foyt-like in nature, if not more for his accomplishments outside of just one discipline.
The duality in how the two Gordons were and are seen only flows naturally from the rise of NASCAR and the fall of Indy-style racing. Jeff Gordon is NASCAR, a key component of those early 2000s broadcasts on FOX and NBC reaching millions of viewers with the first media star to race in a sport that had, at one point, been an outcast in all regions but one. He can get away with anything because he's a hero, and he's a hero because of what he does: driving the stock cars that ESPN first brought to the people, the stock cars that became the very image of American racing, the stock cars that were crewed by every day people and driven by those billed as the greatest in their class. He's a hero because he chases the trophies and prizes that television told us were important, because he wins the championships that receive all the attention, because he leads an auto racing life that is distinctively Americana and yet still just celebrity enough to be fascinating.
Jeff Gordon is a hero because NASCAR is important, because NASCAR is popular, because NASCAR is exciting and interesting and massive. NASCAR's all of that because of people like Jeff Gordon.
The names, then, the names of two people named Gordon, or a Jones, or a Mears, or even a back-marking Larry Foyt, those weren't what held back CART or prevented the IRL from growing. No, it was the lack of synergy, the lack of timing, circumstance, and captivation that could pair a series with a driver and make each bigger than they ever were.
It was the lack of a spectacle deceptively large and still so close to home, contested by those deceptively famous and still so real, working together to create interesting personalities through interesting actions, and an environment for those interesting actions through the behaviors of interesting individuals.
Jeff Gordon could not have made the IRL a winner. He could not have prevented the split. He could not have ever been one of the two Gordons without being in NASCAR, even if NASCAR could never have really been NASCAR without him. In open-wheel, both Gordons would be the same: fast, talented, always on (sometimes over) the edge, and unrecognized.
The next American IndyCar hero could only happen in stock car racing, and truly, he did, while that other Gordon, the one who came up through those very ranks with much of the hype and many of the attributes as his counterpart, never gained acceptance, and became an afterthought so soon. Who he was could have sold, but what Robby Gordon did never would. Devoid of that blend, they could never grow together.
And so, from a generation influenced by Foyt, came not those who would secure the future of the Indianapolis 500, but rather a talented Stewart, an aggressive Harvick, an explosive Busch, a gritty Bliss, a versatile Jones, and two similar-yet-so-opposed Gordons.
2001 marked Jeff Gordon's final Cup championship to date. He sampled an F1 offering from Williams as part of a demonstration, but turned down subsequent opportunities to remain in NASCAR, where he is a staple today. Still active, Gordon has won 88 races in his career, all in the same team. Gordon convinced Rick Hendrick to hire Jimmie Johnson, now a six-time champion. Johnson's background, much like Robby Gordon's, is in off-road racing.

Robby Gordon himself continued with Richard Childress Racing before once again forming his own team, initially sponsored by long-time A.J. Foyt Enterprises backer Harrah's. Gordon faded to start-and-park status, eventually selling his first shop to Team US F1, a venture with IRL-like ambitions to bring U.S. talents to a series without them only to follow through with Champ Car-like execution, signing José María López and James Rossiter to two seats that never made the track. Frequently penalized and rarely competitive, Gordon left NASCAR. His Stadium Super Trucks Series runs alongside the IndyCar Series frequently, with an Indianapolis Motor Speedway date set for next year. The tour will also join the X Games. Gordon's energy drink, SPEED, sponsored the Panther Racing IndyCar in 2013.
A.J. Foyt eventually closed his NASCAR team as Larry's career stalled. Another grandson, A.J. Foyt, IV., tried stock car racing before ultimately returning to IndyCar. A disagreement between A.J. and "Cuatro" led to the latter's retirement. Larry now oversees the IndyCar team, which fields Takuma Sato in the championship. Foyt continued to field drivers like Airton Daré and Darren Manning in his Indy effort, while only partnering with P.J. Jones in NASCAR.
P.J. Jones frequently teamed with Robby Gordon, while also making a few attempts at the Indianapolis 500 before participating in a failed Jaguar sports car program. Today, Jones races in Gordon's Stadium Super Trucks Series, and won the most recent round in Las Vegas. Fellow ex-Foyt driver Jeff Ward has also participated in the series.

Mike Bliss won the 2002 NASCAR Craftsman (now Camping World) Truck Series championship and has never raced an IndyCar. Upon his return to Cup Series racing, he and Jeff Gordon feuded, with Gordon alleged to have assaulted Bliss at one point.
Kyle Larson is tabbed as the next Jeff Gordon, racing for IndyCar owner Chip Ganassi in NASCAR. Larson's transition to stock cars from USAC was aided by his participation in NASCAR's Drive For Diversity program. After the boom of Ryan Newman, Jason Leffler, Kasey Kahne, and others from the USAC tour joining NASCAR, even in light of Indy offers and formula car experience as Leffler and Kahne had, fewer opportunities are afforded to sprint and midget drivers, even in NASCAR.

After CART's bankruptcy and revival as Champ Car, the series was eventually purchased by Tony George and incorporated into the IRL. Now the IndyCar Series, it resembles CART more than it does the vision of George, who was ousted from power years ago. His replacement, Randy Bernard, attempted to reconnect IndyCar with USAC, but was ultimately unsuccessful.
The sport has never regained its past popularity.