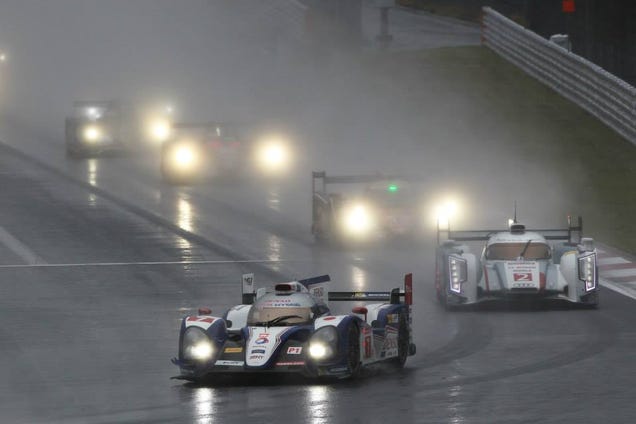 Today's FIA World Endurance Championship event in Fuji, Japan was supposed to be a straightforward affair, following the traditional WEC formula of six hours of sports car racing on a beautiful track with a layout that leaves plenty to be desired. The rain changed that, and it changed that in a big way.
The weekend started fairly normally, with Audi's #1 car (Lotterer/Treluyer/Fassler) taking pole over both Toyota TS030 entries and the #2 Audi, but when the WEC family awoke on Sunday, it was clear that normalcy had been lost to an unbelievably heavy, unwavering rain. Two incidents in the warm-up seemed to set the tone for a messy, attrition filled race. Alas, even that was not to be...
The heavy rains persisted from the end of the warm-up to the start of the race, and it was decided by the ACO that the race would start behind the safety car. Eight laps later, the red was thrown, for conditions were so poor that it was deemed dangerous for cars to be on track at any speed, even the relatively slow pace set by the Audi RS5 safety car. The clock had now been running 20 minutes without the green flag being shown even once, and it continued to run while the cars were parked under the red. Then, the WEC envoked "Sky Law" (a system created by Matt Damon's short-lived "30 Rock" character Carol Burnett to keep control of the occupants a grounded plane) and began to consistently and rather optimistically open a window for the race to restart in "about a half hour".
No restart before 12:30 local time (4.30 in UK) #FIAWEC

— FIAWEC Live (@FIAWEC_Live) October 20, 2013
No restart before 13:00 (5.00 UK time) - Race Director #FIAWEC

— FIAWEC Live (@FIAWEC_Live) October 20, 2013
But finally, an actual update came! The race would resume behind the safety car, just as it had begun:
Estimate to be able to resume the race at 13.30 confirmation will be given at 13.15 #FIAWEC

— FIAWEC Live (@FIAWEC_Live) October 20, 2013
While circulating under the safety car, the leading (and polesitting) #1 Audi pitted three separate times to repair a throttle control problem, moving the #7 Toyota to the lead in it's home race. Then, uh, the red flag came back out.
Red Flag #FIAWEC

— FIAWEC Live (@FIAWEC_Live) October 20, 2013
Then the series went back to "Sky Law".
No resumption of race until 14.30 - 6.30 UK time #FIAWEC

— FIAWEC Live (@FIAWEC_Live) October 20, 2013
No resumption before 15.00 - 7.00 UK time #FIAWEC

— FIAWEC Live (@FIAWEC_Live) October 20, 2013
No restart until at least 15.30 (7.30 UK time) #FIAWEC

— FIAWEC Live (@FIAWEC_Live) October 20, 2013
Then, after a strange side-by-side view of some very bored Audi R18 pilots and a beautifully aggressive lap in the RS5 safety car, the race was ready to resume with just 90 minutes remaining in the original six hour window. Then, it un-resumed. That third red flag ultimately ended the race, and with just sixteen laps, all behind the safety car, completed, the #7 Toyota TS030 (Nakajima/Lapierre/Wurz) was declared the overall winner. OAK Racing was declared the LMP2 winner, while Aston Martin Racing was declared the winner in both GTE-Pro and GTE-Am.
Ultimately, not a single full lap was turned under green conditions. Just half points were awarded to every driver and team entered, but nonetheless Audi Sport Team Joest claimed their second WEC manufacturer's title, and they remain the only ever WEC manufacturer's champions. Toyota took it's first LMP1 (and overall) win of the year at their home track, the fourth victory in the history of the TS030 program entirely thanks to issues on the #1 Audi that were severe enough to appear behind a safety car and a logical, but ultimately incorrect, decision by Audi Sport Team Joest engineer Leena Gade to repair said issue on the pit lane immediately. The large crowd never saw any of the proper endurance sports car racing they came to see, but in a gesture of respect to the dedicated Japanese fanbase at the track the ACO opened up the pit lane for an impromptu post-race autograph and grid walk session.
This utterly strange event begs the question: If there was never a green flag flown for a full lap, can a race truly have a winner? That's a philosophical question on par with "What is the meaning of life?" and "Why does Floyd Anthony "Tony" Raines still get NASCAR rides?", and thus one for each individual reader to decide for themselves, but I think we can all agree WEC world feed commentator John Hindhaugh summed up the race best when he described it as "The most extraordinary race I've never seen".
(Title photo via Toyota GmbH PR)