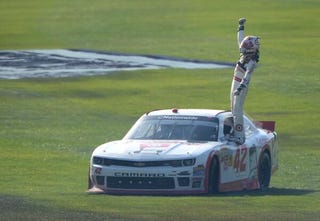 Did you watch basketball this weekend instead of motor racing? So did we! Catch up on what you missed with this weekend's Rennsport weekend review.
NASCAR Sprint Cup Series
For NASCAR, Fontana used to produce awful, awful processions. This hasn't been the case for the last few years, and this weekend, that past seemed but a distant memory after an absolutely incredible weekend of racing.
The Cup race began with a series of tire issues that, unfortunately, never really went away. Even in a series where a few flat Goodyears a race is almost a norm now, today's issues were far from few and far between. The result, at least one flat about every 10-15 laps, and by extent, a yellow around that time more often than not. It marred the proceedings in a way that reminded many of the notoriously disastrous 2008 Brickyard 400, but nonetheless, constant lead changes and fascinating multi-groove racing reigned when the race was green.
With 5 to go, Jimmie Johnson lead Jeff Gordon, and it had been about 20 laps since someone last had a flat. The feeling, with victory for Johnson just 10 miles away, was that this simply couldn't keep up, and unfortunately, it didn't. The 48's left-front was the first to go, but it didn't bring out the yellow. With Gordon in the lead, four more tires blew, but the yellow was kept under wraps for one more lap. Then, with just three laps to go, third place runner Clint Bowyer blew his left-rear, spun, and brought out the yellow.
Now, the implication at this point is that everyone would need to pit for four tires before issues appear again. However, Hillman Racing/CircleSport Racing (It's like RCR, but not in any way!) driver and noted haircut haver Landon Cassill stayed out and lead the field to the green. Of course, the young CircleSport team's car was far from prepared to be in this position with fresh tires, let alone with run-old tires, so Cassill's 40 soon fell back. The result was what ultimately became a seven wide fight for the lead, with Kyle Busch ultimately passing Gordon and his brother Kurt to take the lead.
However, even after clearing the field, Busch wasn't home clear. Elk Grove, California's Kyle Larson worked through the field on the final lap, and heading into turn 3 he took a dive to the inside to take the win. It was not to be, however, and Busch ran back to the start/finish line clearly ahead of Larson to take his second Fontana Cup win in as many years.
With the win, the younger Busch joins Kevin Harvick, Carl Edwards, Brad Keselowski and Dale Earnhardt, Jr. in presumably being locked into NASCAR's first ever "Knockout" postseason.
However, it wasn't all runner up finishes for Larson this weekend...
NASCAR Nationwide Series
Before we get to this weekend's second tier NASCAR race, let me preface this by saying that Kyle Larson is one of the rare athletes to come from my native Sacramento metro area, a region most notable for having an NBA franchise that was good for like four years in the early 2000s, being compared to Cleveland and producing a lot of state-level political gridlock. Though we're not exactly small town America, Sacramento's suburban areas are still relatively tightly knit, and thus even some random racing fan like me knows the stepsister of Larson's ex-girlfriend through a community college Spanish class (Really!). Thus, I have some biases towards him, and I've had them since he first started grabbing national dirt open wheel headlines.
With that in mind, his performance in this weekend's relatively straightforward Nationwide race in Fontana was the stuff of legend. Amid yet another pre-race argument about whether or not Cup drivers in Cup equipment should be allowed to run in these races, Larson was the only competitive Cup driver to strap into a Nationwide team's car for the race. His Turner-Scott car was being run by a team that hadn't won a race in over a year and his car was being crew chiefed by a man whose last win came with Boris Said, in a previous generation Nationwide car, at a road course that the series no longer races at.
As with every Nationwide race, the event was dominated mostly by the Cup drivers in Cup equipment, in this case the likes of Kevin Harvick (Driving for the Hendrick satellite JR Motorsports team), Matt Kenseth (Driving for Joe Gibbs Racing) and Kyle Busch (Also running a JGR entry). However, after a late yellow, Busch and Harvick began to roll away from the field on their own. Soon, they were joined by Larson, and for the next 20 laps an absolutely incredible battle, one that looked like an early CART race at the same Fontana track, that saw constant overtaking, around seven workable grooves and, ultimately, the first ever Nationwide Series victory for the young Larson.
The amazing race for the win ultimately sapped all attention from the Nationwide Series regulars in the event, as Cup drivers in the series unfortunately often do, but nonetheless they too raced. After the event, Regan Smith saw his one point lead on Trevor Bayne in their championship shrink to nothing, and the two now sit tied as the series heads into it's first off weekend of the season.
MotoGP World Championship
Short on actual races as it was, this was a rather brilliant weekend for on-track racing, and MotoGP's season opener in Qatar was no exception.
Months before the season began, reigning champion (And only now second year pilot!), Honda rider Marc Marquez found himself with a broken leg, one that left him sitting out the series's final two preseason tests. Did that stop him from being competitive this weekend? Well, did anything from his 2013 season imply that he was mortal!? Of course not. Incredibly, Marquez qualified on pole!
However, he would lose the race lead almost immediately on the start, relinquishing it to Yamaha rider and fellow MotoGP champion Jorge Lorenzo. But, just fifteen corners later, Lorenzo had a massive off that lead to his retirement from the race, and the lead in turn fell to satellite Honda pilot Stefan Bradl. Just eight laps later, Bradl made a similar mistake and slid off the track, relinquishing the lead back to Marquez! Despite an incredible charge by living legend and faces-painted-on-helmets connoisseur Valentino Rossi that saw him come within 3/10ths of a second of the victory, Marquez ultimately claimed the victory, still-healing leg and all. The young Spaniard's team mate Dani Pedrosa competed the podium in third.
As you could guess, Marc Marquez leads the series championship over Valentino Rossi and Dani Pedrosa as the series prepares for it's next race, at Texas's Circuit of the Americas.
Next week, Formula 1's return returns at Malaysia, NASCAR heads to it's other half-mile wonder and IndyCar makes it's long overdue return to the limelight in St. Petersburg. Rather classically, we still don't know who will be piloting Dale Coyne Racing's #18 entry in that very race. Few things in our world are constant, but rather wonderfully, Dale Coyne seems always happy to run his team the same way. Also, there's some basketball again, if you're into that sort of thing.
(Title photo viaNASCAR's official Twitter feed)