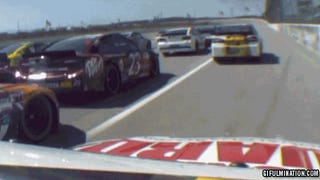 Finally, an LMP2 car wins an IMSA Tudor United Sports Car race. The FIA WEC provides a very important preview of the 24 Hours of Le Mans. Also, a car with a dog on it's bumper goes really fast. This and more on this weekend's Rennsport Review.
NASCAR Sprint Cup Series
Talladega was the site of many firsts this weekend. It saw the first-ever group qualifying session for the Sprint Cup series on a restrictor plate track, which resulted in the first-ever Sprint Cup series pole for Richard Childress Racing's Brian Scott. It saw the first-ever race car sponsored by a bad joke on the internet (Which Darrell Waltrip discovered through his Google Machine!). It saw the first-ever NASCAR appearance for KFC's Go Cup fast food delivery device, an example of which sat in David Ragan's car from the start until his late wreck. Most importantly, however, it saw the first-ever restrictor plate win for a series veteran.
The weekend's racing at Talladega, this year a more traditional "Pack race" after a few year's dalliance with the "Tandem draft" style of racing, was relatively clean from the start, with a minor incident resulting from a scuffle between Brad Keselowski and Danica Patrick for the lead of the race. However, Keselowski would change that about 3/4ths of the way through the event, spinning on his own as he tried to push to the lead of the pack despite being six laps down in a damaged car. The resulting crash took out six or seven cars, and was unfortunately the first of many.
Jimmie Johnson and Carl Edwards would trigger two more such pile-ups, and in doing so, they set up a two-lap run to the checkered flag after the final restart. Denny Hamlin lead the notoriously conservative (On plate tracks, at least) Greg Biffle as the race began anew and quickly pulled away. Before the end of the second-to-last lap, a valiant effort by the incredibly underfunded Hillman Racing's Landon Cassill lead to the creation of a seemingly strong far outside lane (Supported by a surprisingly shaky Kyle Busch) began to push forward to contest for his lead. However, it was not to be, as an issue for 27 year old rookie Justin Allgaier would leave a full bumper cover sitting on the start/finish line, leading NASCAR to call a caution period and end the race early just half a lap later.
The triumph for Denny Hamlin was his first ever points paying on a plate track, a long-awaited result for the man who'd always excelled on the same type of tracks in the non-championship pre-season races at Daytona. It also very likely puts him in the 2014 NASCAR postseason, where he joins the likes of Carl Edwards, Dale Earnhardt, Jr., Brad Keselowski, Kurt Busch and Joe Gibbs Racing team mate Kyle Busch as near-locks, as well as fully locked in pilots Joey Logano and Kevin Harvick.
Rather notably, 2013 dominators Jimmie Johnson and Matt Kenseth are yet to win a race in 2014.
IMSA Tudor United Sports Car Championship
The first three weekends of the first ever TUSC championship have provided great on-track action, but those bright spots have been clouded by a myriad of safety car, parity and officiating controversies. This weekend, unfortunately, continued the trend on both counts.
The series's pair races in Laguna Seca saw all four classes in action today, with the Pro-Am GTD and LMPC classes competing in the morning before the all-pro GTLM and Prototype classes took to the track later in the afternoon. Neither two hour race saw a single safety car period, a thankful relief after what seemed like hours behind pace vehicles at Daytona and Sebring, and all four classes produced incredibly intriguing fights for each spot on the podium, another relief after the most recent round in Long Beach produced few battles for class leads. However, issues with Daytona Prototype and more traditional LMP2 Prototype parity came up as much this weekend as they have in the past, with the clear issues of the differences in car style on display more than any differences in outright pace (The Daytona Prototypes, 300 pounds heavier, heat the same compound of Continental tires much quicker than their P2 brethren, meaning they get to speed far faster but in turn lose pace later on in a stint. Furthermore, the lower downforce DPs are finding passing LMP2 cars far easier than the inverse, who are oftentimes quicker on a single lap than the "Truck-like" DPs but struggle to get past slower cars.) and, for the third time in four races, Scot Elkins had to clear up the race results in a post-race press conference.
GTD, the Pro-Am "Formula Libre" consisting of Grand-Am GT, Porsche Carrera Cup and international GT3 cars, produced perhaps the cleanest and most exciting race of the weekend, not just in the four TUSC categories but in all of motorsport. Fuel strategy put many cars in contention, but by the end it was a fuel-saving Spencer Pumpelly leading the field for Flying Lizard Motorsports. He was going to win the race easily, if only the overall leader of the race had been 15 seconds faster over the course of the event and the white flag was thrown a lap earlier, but it was not to be, and he ran out of fuel coming down Laguna Seca's notorious corkscrew. Even with an entirely downhill half-lap and a massive lead, Pumpelly still gave up the lead to second place Dane Cameron just two corners later, and by the time he came to the start/finish line, he'd run out of momentum entirely. Thus, Cameron took victory in the brand new Turner Motorsports BMW Z4 GT3, with Paul Miller Racing's Audi R8 and Magnus Racing's Porsche 911 GT3 America finishing off the podium.
LMPC raced with the GTD category in the day's first running, and as a result, an LMPC car finally won a race overall in the Americas, something that nearly happened in the ALMS at Baltimore what felt like seven times (Even though there were only three Baltimore GPs ever). Fuel strategy lead to plenty of confusion in this category as well, but at the end it came down to Starworks pilot Renger van der Zande leading and being hunted down by 8Star Motorsports's Sean Rayhall. The young Rayhall put on a charge for the ages, pressuring a questionably-fueled van der Zande, but he spun on his own with just a few minutes to go, confirming a win for 8Star's since-inception rival Starworks (The 8Star team is a direct spinoff of Peter Baron's Starworks program, which was originally founded in partnership with 8Star owner and driver Enzo Potolicchio). A quick save by Rayhall salvaged a second place finish, and former Jaguar team Rocketsports Racing completed the podium in third.
While the LMPC class is under the spotlight, we'd like to offer a special shout-out to friend of Rennsport Ryan Eversley, who was signed to drive for BAR1 in the LMPC category this weekend, but ultimately did not begin the race after an off by his co-driver in practice lead to irreparable tub damage. A shout-out, as well, to Sam Bird, who is not a friend of Rennsport but instead just a guy I like to watch race. The 2013 GP2 vice champion (Not really a thing, but fellow GP2 vice champion Luca Filippi says it a lot so let's go with it) was also entered into the race this weekend, but wasn't able to start the event after an issue in warm-up.
GTLM, the all-pro mostly-factory category that is the distant, but direct, descendant of GT2, was unfortunately the source of most of this weekend's controversies. BMW's two factory Z4 GTEs, run by Rahal-Letterman Lannigan Racing, lead much of the race, but strategy brought Risi Competizione's Giancarlo Fisichella to the front of the field. He would lose that lead to the #3 Corvette Racing entry of Jan Magnussen and Antonio Garcia, then lose second to the #911 Porsche Motorsport factory entry run by CORE Autosport, and finally lose third to the #55 BMW Z4 GTE. The 'Vette would pull away from the field, but second would remain in question until the final corner of the final lap, when an optimistic move by the BMW of Bill Auberlin and an even more optimistic move by the Porsche of Nick Tandy gave the position to the BMW.
However, that move, and a few prior moves by both drivers, would soon come under intense scrutiny from Scot Elkins and IMSA, and after three hours of deliberation (Most of the fans left the track, but some stayed for an announcement), Tandy's Porsche was penalized 60 seconds, promoting Auberlin to second and Fisichella to third. That in turn gave Risi Competizione their first podium of the year, particularly rewarding for a team that's first three races tainted by Matteo Malucelli doing something dumb, Matteo Malucelli doing something dumb and suspension damage, respectively. Malucelli was suspended for one race, but his suspension is now over and it seems unlikely he will return to the #62 cockpit, meaning 2/3rds of the legendary Ferrari team's issues may be cured.
A new batch of BoP issues was the headline in Prototype, but nonetheless there was a race for the category as well. Spirit of Daytona's Corvette DP lead the entire opening stint over OAK Racing's LMP2 Pescarolo-Nissan, but when the two teams made their driver changes, all hell would soon break loose. Alex Brundle, now behind the wheel of the OAK entry, was pushed off track early by SDR's Richard Westbrook, and in response Brundle would make a more-than-optimistic move into the famous corkscrew that would heavily damage his car, that of Westbrook, the Action Express Corvette of Joao Barbosa and the entirely innocent un-named factory Mazda prototype of Tristan Nunez. This promoted Ryan Dalziel, pilot of Extreme Speed Motorsports's HPD LMP2, to the lead, but just minutes later he would suffer a transmission failure that would take him out of the race. Thus, the Wayne Taylor Racing Corvette DP of Jordan Taylor would inherit the lead, in front of the lone remaining competitive P2 car and lone Pro-Am entry in the Prototype class, the #2 Extreme Speed Motorsports HPD. That car, piloted by Johannes van Overbeek after Patron executive and long-time stalwart of gentleman racing in the ALMS Ed Brown handed over the car early, was quick enough to catch Taylor, then pass him and take what would be the first ever victory for the LMP2-style cars in the first year Tudor championship.
FIA World Endurance Championship
The Six Hours (Or 1000 Kilometers) of Spa has long been a "Dress Rehearsal" for the legendary 24 Hours of Le Mans, and the preview it provides is often very important to those hoping to handicap the twice-round-the-clock classic. This year, the focus was primarily on the incredibly rejuvenated LMP1 category, a class whose cup runneth over with factory entries. Toyota dominated the series's previous race at Silverstone despite comparable speeds from all three factory cars throughout practice and qualifying, but could that dominance continue at the legendary Spa-Francorchamps?
Yes. Yes it could. It really, really could.
Porsche would take pole on a last lap dash on a drying track, and all three factories would hold a place in the top three, so it came as no surprise when the #14 Porsche 919 (Jani/Dumas/Lieb) lead the race's early running. However, a small electrical issue (So minor it was repaired by pushing steering wheel buttons in the right order, confirming everyone's long-held belief that the world's most advanced racing cars are indeed exactly the same as some of the more advanced combo moves in the Street Fighter games.) would bring that lead to a grinding halt and deliver it instead to the #8 Toyota TS040 (Davidson/Lapierre/Buemi), who would hold on for another dominant victory. Audi Sport Team Joest's #1 (Kristensen/Duval/Di Grassi) would finish second, in the surprisingly noncompetitive but still obviously quick second (Or fourth, really. There's been a lot of R18s.) generation R18, while Toyota's #7 (Wurz/Sarrazin/Nakajima) would complete the overall podium.
Rebellion Racing, debuting their new R-One, won their privateer LMP1 sub-class, where they ran uncontested. Yet, somehow, they didn't take second in the class where they entered both cars.
LMP2, still diminished by both a strong ELMS and financial problems stemming from the Russian political debacle of late (Surprisingly, MOST of the FIA WEC LMP2 grid can trace it's roots back to the former Soviet Union in one way or another), saw OAK Racing's G-Drive Racing take victory in it's OAK Pescarolo-Nissan over Jota Sport's Zytek-Nissan (An ELMS team entered in a one-off in preparation for the classic at Le Mans) and KCMG's Oreca-Nissan. The only other two entrants were the two AF Corse-run SMP Racing cars.
GTE-Pro, the all-factory GT2 class, was won by AF Corse's #51 Ferrari (Bruni/Vilander), who bested Manthey Racing's #91 Porsche (Pilet/Bergemeister) and AF Corse's #71 Ferrari (Rigon/Calado). GTE-Am still lives, and was taken by AF Corse, because apparently, a near-factory team is shockingly competitive in what is basically a club racing category.
The results in the LMP1 category will be important to remember come June's 24 Hours of Le Mans. It's clear by now that, while the Toyota isn't dominantly fast on one-lap pace, it has more speed over the course of a full fuel-and-tire run than the new-generation Audi R18 and is reliable enough to make up for the fact that it is seemingly equal with Porsche's new 919, which has proven shaky in it's first two races. The Circuit De La Sarthe is special, however, and what we've learned so far may well be entirely irrelevant. Thus, come hour 18, don't be surprised if all the brand new P1 cars succumb to issues and all of the sudden there's a Russian LMP2 car that's really an Italian LMP2 car leading the race by half a lap, because that is looking like a legitimate possibility this year.
NASCAR Nationwide Series
Man, do those sports car reviews take up a lot of space! The second-tier NASCAR category was also in Talladega this weekend, and it put on another fantastic plate event. Many surprising pilots, from Ryan Sieg to Landon "Everyone's Favorite Person" Cassill, contended, but ultimately the #11 JGR Toyota won here just as it did in the big show, although this 11 was piloted by Elliott Sadler. He now trails Chase Elliott by just one point in the championship hunt.
FIM MotoGP World Championships
At this point, reigning champion and second year rider Marc Marquez's dominance is no longer worth questioning. For the fourth straight MotoGP race weekend, the young Spaniard won a race, continuing a perfect season. The 1972 Dolphins probably don't do their whole champagne thing for MotoGP, but if they did, I'm sure they'd be worried.
Jerez is one of a few home races for Marquez, making the victory particularly special for the rider that started the season injured. Valentino Rossi and Dani Pedrosa completed the podium, with the final truly competitive bike (That of Jorge Lorenzo) finishing in fourth. Marquez already leads the standings by over a full race's points total, with his perfect 100 points 28 ahead of team mate Dani Pedrosa.
DTM
Yes, Germany's batshit crazy touring car category that's really a prototype category but with cars that drive more like those from an open wheel category is finally back.
Second year driver Marco Wittman took the year's maiden DTM victory, his first ever and the first ever for BMW's new M4 racer. Veteran Audi star and two-time NASCAR racer for some reason Mattias Ekstrom finished second, while Audi's Adrien Tambey finished third.
Notably, the fastest Mercedes finished 11th, out of the points. Success ballast could bring them back into contention, but right now, the immediate future is bleak for the DTM's stalwart manufacturer.
FIA World Touring Car Championship
After winning their first four ever WTCC races, Citroen seemed prepared to absolutely dominate the 2014 edition of the struggling pinnacle of traditional touring car racing. The Hungaroring had other ideas, however, and after a Muller-lead 1-2 in the first race of the weekend, Gianni Morbidelli proved that Chevrolet's era of WTCC success, now two seasons removed from the marque's last factory program, is not yet over with a victory over Tiago Monteiro. Muller was the highest placed Citroen in that race, finishing fifth.
Citroen's Jose Maria Lopez still leads the series championship, and with five 1-2s in six races, the French Marque is still making a mockery of the class's manufacturer championship.
That does it for this weekend's Rennsport Weekend Review. Be sure to join us next weekend, when I complain about the very existence of the Indianapolis Grand Prix for literal hours on end! Also there's some NASCAR at Kansas and some other good stuff like that, probably.
(Title gif via Timothy "Bubbaprog" Burke's "Gifulmination")