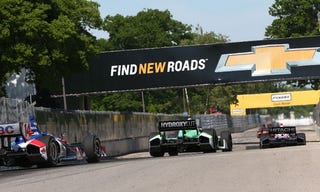 Do you like motor racing on tracks that either break apart like roads in Michigan or are literally just roads in Michigan that are actively breaking apart? If so, this was the weekend of motor racing for you!
Verizon IndyCar Series - Detroit Belle Isle (1 & 2)
This year's IndyCar Series saw it's first doubleheader this weekend in Belle Isle, Detroit, Michigan. The historically bland street circuit has produced quite a few notable moments since it's 2012 return, from cars sucking portions of the track surface out of the ground to a win by Dale Coyne's second car, which has for the past two decades been consistently the least competitive entry in American Open Wheel Racing. This year's races weren't as fascinating as 2012 or 2013, but nonetheless provided something much more interesting than the follow-the-leader racing the track was known to produce before it's re-introduction.
2012's infamous track separation problems were though to be behind the Circuit Gilles Villeneuve-like semi-permanent street circuit, but on Tuesday, a water main broke underneath turns 13 and 14, compromising the racing surface and requiring a small last-minute repave. However, this small repair would prove successful, and the race would go on as planned.
Race 1 saw Helio Castroneves on pole, and surprisingly poor qualifying for street circuit stars Will Power, Simon Pagenaud and last week's Indianapolis 500 winner, Ryan Hunter-Reay. Early in the event, Pagenaud and Power got together jostling for a position deep in the field, and the result was a retirement for Pagenaud, but no penalty for Power. Up front, fuel strategy caused a jumble of leaders, most notably resulting in a point at which Graham Rahal and Marco Andretti, two sons of CART legends who have widely been considered disappointments after their impressive junior formula results, fighting for the race lead. Andretti would soon falter, but Rahal stayed near the front throughout the race, and would eventually find himself in a much-needed second place, enough to barely put him ahead of Kurt Busch, who has only ever raced once in IndyCar, in the championship points race. That second place finish came just 3/10ths behind eventual race winner Will Power, who found himself flying through the field to take victory from nearly the back of the pack.
Race 2, meanwhile, found AJ Foyt Racing's Takuma Sato starting from pole for the second time in 2014. He would soon lose that lead, and Helio Castroneves would come to dominate the race. Castroneves's victory, seen by him as vindication after finishing second to Ryan Hunter-Reay at Indianapolis by under 1/10th of a second, moved him up to second in the championship, while a second place finish and further issues for Hunter-Reay moved his team mate Will Power into the championship lead.
IndyCar next races next weekend, at the Texas Motor Speedway.
IMSA TUDOR United Sports Car Championship
This weekend in Detroit, only the fastest and slowest TUSC categories were in action, Prototype and GT Daytona, and the race was held in the morning where it conflicted with a baseball game and was thus tape delayed by television coverage provider Fox Sports One. Nonetheless, the series put on a show in what many assumed would be a forgettable race.
Unfortunately, even despite an LMP2 victory at Mazda Raceway Laguna Seca, week-to-week Daytona-Prototype-to-Le-Mans-Prototype balance continued to struggle on the weekend, and though the P2 cars were competitive in qualifying, the race for the overall win and Prototype class win was dominated by the Grand-Am sourced DPs.
Spirit of Daytona Racing started on pole in Prototype and lead early. However, their lead didn't hold forever, and the three-way battle between Corvette DPs for the race win is the sort of thing too wonderful to be described by mere text, so watch the video here.
In the end, the Taylor brothers took victory in Prototype for Wayne Taylor Racing. In GTD, meanwhile, a less interesting race saw Grand-Am stalwarts Scuderia Corsa take their Ferrari to it's first IMSA win over Alex Job Racing's Porsche 911 GT3 America.
NASCAR Sprint Cup Series - Dover (1)
Dover International Speedway is unique for many reasons, from it's infield horse racing track to it's rare-in-NASCAR independent ownership group, but what it is most known for is its massive concrete banking, so steep that even NASCAR Sprint Cup cars are nearly flat out around the 1 mile track. However, the banking was a story for an entirely different reason this weekend, as around halfway through the race, it began to fall apart.
Brad Keselowski started on pole for the race, but the real story of the early running came when Jamie McMurray, victor of the 2010 Daytona 500 that saw a similar in-track pothole, hit a chunk of track lifted out of the ground by Ryan Newman about halfway through the race. This caused a 22 minute delay and perhaps the first ever network television coverage of a pothole being filled with Quickrete, but after the delay it was a non-problem and the race, surprisingly, continued as scheduled.
As for the race itself, it should come as no surprise to longtime NASCAR fans that Jimmie Johnson again dominated at the track where he'd won eight times in the past, and even two late debris cautions weren't enough to stop him from taking a ninth victory at the track, the most-ever in the NASCAR Sprint Cup Series at the track.
Joe Gibbs Racing pilot Matt Kenseth now leads the regular season standings, but as the series's new playoff system is filled by race wins, it is more important to note who has victories: Johnson now joins Kevin Harvick and Joey Logano in having two, and thus being locked into the "Chase" playoffs, while Dale Earnhardt, Jr., Kurt Busch, Carl Edwards, Jeff Gordon, Kyle Busch, Brad Keselowski and Denny Hamlin each have one. Kenseth can get into the series playoffs without a win if he leads the standings after race 26 at Richmond International Raceway.
NASCAR Nationwide Series
Sprint Cup Series driver Kyle Busch won, again. Regan Smith leads the championship over Elliott Sadler by 4 points, and over team mate Chase Elliott by 22.
NASCAR Camping World Truck Series
Sprint Cup Series driver Kyle Busch won, again. In winning this and the Nationwide Series race, he had a chance on Sunday to again sweep all three of NASCAR's national series in a weekend. Instead, he wrecked before the halfway mark. Matt Crafton, who lead the championship dominantly going into the race, now finds himself tied for second with team mate Johnny Sauter and just one point back of leader Timothy Peters after a broken wheel sent him into the wall late in the race.
(Title image via IndyCar.com)