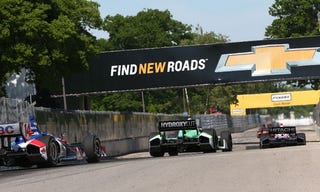 Do you like motor racing on tracks that either break apart like roads in Michigan or are literally just roads in Michigan that are actively breaking apart? If so, this was the weekend of motor racing for you!
Verizon IndyCar Series - Detroit Belle Isle (1 & 2)
This year's IndyCar Series saw it's first doubleheader this weekend in Belle Isle, Detroit, Michigan. The historically bland street circuit has produced quite a few notable moments since it's 2012 return, from cars sucking portions of the track surface out of the ground to a win by Dale Coyne's second car, which has for the past two decades been consistently the least competitive entry in American Open Wheel Racing. This year's races weren't as fascinating as 2012 or 2013, but nonetheless provided something much more interesting than the follow-the-leader racing the track was known to produce before it's re-introduction.
2012's infamous track separation problems were though to be behind the Circuit Gilles Villeneuve-like semi-permanent street circuit, but on Tuesday, a water main broke underneath turns 13 and 14, compromising the racing surface and requiring a small last-minute repave. However, this small repair would prove successful, and the race would go on as planned.
Race 1 saw Helio Castroneves on pole, and surprisingly poor qualifying for street circuit stars Will Power, Simon Pagenaud and last week's Indianapolis 500 winner, Ryan Hunter-Reay. Early in the event, Pagenaud and Power got together jostling for a position deep in the field, and the result was a retirement for Pagenaud, but no penalty for Power. Up front, fuel strategy caused a jumble of leaders, most notably resulting in a point at which Graham Rahal and Marco Andretti, two sons of CART legends who have widely been considered disappointments after their impressive junior formula results, fighting for the race lead. Andretti would soon falter, but Rahal stayed near the front throughout the race, and would eventually find himself in a much-needed second place, enough to barely put him ahead of Kurt Busch, who has only ever raced once in IndyCar, in the championship points race. That second place finish came just 3/10ths behind eventual race winner Will Power, who found himself flying through the field to take victory from nearly the back of the pack.
Race 2, meanwhile, found AJ Foyt Racing's Takuma Sato starting from pole for the second time in 2014. He would soon lose that lead, and Helio Castroneves would come to dominate the race. Castroneves's victory, seen by him as vindication after finishing second to Ryan Hunter-Reay at Indianapolis by under 1/10th of a second, moved him up to second in the championship, while a second place finish and further issues for Hunter-Reay moved his team mate Will Power into the championship lead.
IndyCar next races next weekend, at the Texas Motor Speedway.
IMSA TUDOR United Sports Car Championship
This weekend in Detroit, only the fastest and slowest TUSC categories were in action, Prototype and GT Daytona, and the race was held in the morning where it conflicted with a baseball game and was thus tape delayed by television coverage provider Fox Sports One. Nonetheless, the series put on a show in what many assumed would be a forgettable race.
Unfortunately, even despite an LMP2 victory at Mazda Raceway Laguna Seca, week-to-week Daytona-Prototype-to-Le-Mans-Prototype balance continued to struggle on the weekend, and though the P2 cars were competitive in qualifying, the race for the overall win and Prototype class win was dominated by the Grand-Am sourced DPs.
Spirit of Daytona Racing started on pole in Prototype and lead early. However, their lead didn't hold forever, and the three-way battle between Corvette DPs for the race win is the sort of thing too wonderful to be described by mere text, so watch the video here.