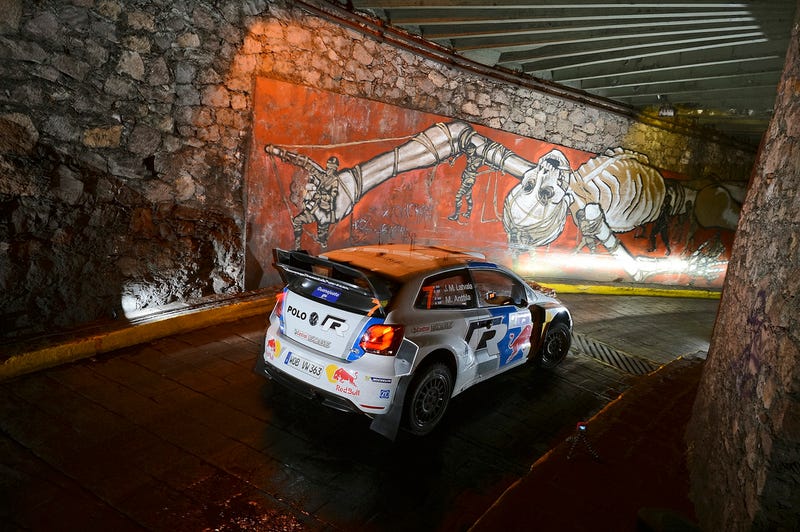 Later this week, the difficult and visually stunning Rally Mexico starts. Technically called Rally Guanajuato, the first gravel rally of the WRC season presents several challenges to teams and drivers. The 1037 km race has a ceremonial start through the streets and tunnels of Guanajuato, which is where the lead image is taken from. Drivers head down through the old silver mine tunnels, then surface back onto the streets to packed crowds. That's the easy and fun part.
After that, the real fun begins. Rally Mexico is hosted by the city of Leon, which lies at an elevation of 1815 meters. Drivers will reach almost 3000 meters over the three day event. While this is not hard on them, it is on their cars. With vehicles experiencing a power drop of between 20-25%, rookies have been known to complain about losing engine power. That's the altitude kicking in. Mistakes at a higher altitude are much more costly than at lower levels. If you lose acceleration, it takes much longer to get back up to speed. You wouldn't think some of those small, hot hatches would have an issue, but they do. The thinner mountain air also means that engine and brakes must work harder. Overheating can be another issue.
While the altitude isn't an issue for drivers, the heat is. Temperatures can soar towards 90 degrees Fahrenheit. Not the most comfortable after coming off of Rally Sweden. Drivers must also contend with concrete culverts, animals, and fans who can take their antics too far. Last year saw race leader Sebastien Ogier, find a closed gate while leading a stage. Luckily his level headed co-driver, Julien Ingrassia, leapt to action quickly to unlock the metal gate. They were lucky they didn't hit it full force. Ogier would go on to win the race.
If you'd like to keep track of this colorful race, I've found the best way is through social media, like Twitter, as well as updates and broadcasts from the official WRC site, http://www.wrc.com/en/, and Rally Mexico's site, http://www.rallymexico.com/site/en. All major WRC teams are on Twitter, as well as most of the drivers, and enthusiastic bloggers and fans.
I leave you with this action filled Rally Mexico race preview.