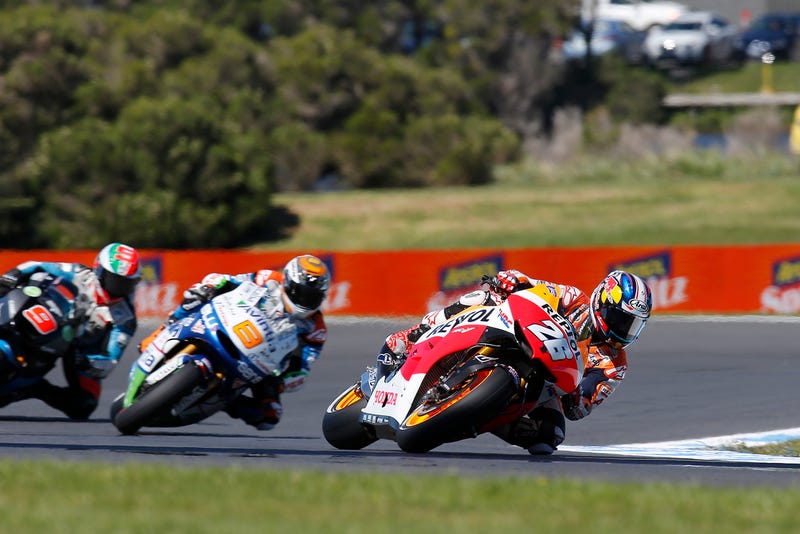 The big story for this weekend's MotoGP races isn't Lorenzo shortening the life of a seagull, it's the shortened races for MotoGP and MotoGP2, due to extreme negligence on the part of tire manufactures, and MotoGP's commercial rights holder, Dorna. The recently repaved Phillip's Island Racetrack was never tested for tire wear after the new, grippier pavement was laid down. This has resulted in tires being run through at such an alarming rate, not only have the MotoGP, and MotoGP2 races been shortened, there are mandatory pit stops to swap bikes. I am stunned.
If you follow me on twitter, I rant from time to time about Carmelo Ezpeleta and the rest of the Dorna organization. While certain former Spanish riders turned reporters insist on supporting their countrymen, I am of the opinion that Dorna, and in return, Mr.Ezpeleta are well on their way to running MotoGP into the ground. In this case, they almost took the lives of riders along the way. Shame on you. I watched in bemusement earlier this year when it was announced that Casey Stoner would test for Honda. Reporters who should know better were wondering both on Twitter, and in articles if this meant he was coming back to MotoGP.
As if that would happen while Carmelo Ezpeleta was still in power.
Far from wishing he was out at his home track racing this weekend, Stoner must be thanking his lucky stars that he didn't risk his life racing to help line the pockets of Dorna.
There is plenty of blame to be spread around in this instance also. Bridgestone should not go unscathed as well. I will drop the mic and let you read journalist's David Emmett, of Motomatters, piece on the entire, dangerous, situation in Australia this weekend. Link here.
Image courtesy of Box Repsol's flickr page. http://www.flickr.com/photos/box_rep…