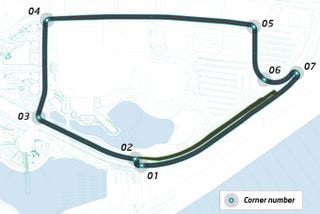 The inaugural FIA Formula E season today sees it's seventh date announced in detail, as the category's race in Los Angeles becomes an event in Long Beach, California. The inaugural ePrix of Long Beach (Yes, they call their races "ePrix") will take place on April 4th, 2015, exactly two weeks before the IndyCar (And IMSA Tudor United Sports Car, Pirelli World Challenge and Firestone Indy Lights) Grand Prix on the same street circuit.
The event will take place on a shortened track layout, which turns right instead of left at the traditional turn 1 and cuts out five corners, most notably the landmark fountain turn (Notable to race attendees as "The corner you see on TV all the time but can only see in person from the balcony of a nearby Bubba Gump Shrimp"). It also adds a chicane in the middle of the track's famed long, sweeping front straightaway, presumably to circumvent speed trap comparisons with IndyCars that could be as much as 60 miles per hour faster at the end of that stretch. However, it does retain the track's other signature corner, a sharp hairpin that will,, for Formula E cars, be turn 7. This shortened layout, minus the chicane, has been used weeks before the Grand Prix itself previously by Formula Drift which traditionally holds an event here on the weekend before the IndyCar event.
The Long Beach race will be a late round in the officially 10 round (Though the 5th round is still a "TBA" after the series lost its date in Brazil) schedule, and will come immediately after the only other scheduled US race in the inaugural season of Formula E, taking place in Miami three weeks prior. A month afterward, the series heads to a presumably similarly modified Monaco street circuit, also two weeks before that track's most legendary of race weekends. To the knowledge of this author, that makes the first time since the 1983 Formula 1 season that an open wheel schedule will include both Long Beach and Monaco, albeit as the clear second fiddle in both races. All of the races in this inaugural season will take place at temporary street circuits inside major cities, so the early decision to take a supporting role at the two most successful ever street circuits (And, really, the only two sustainable true street circuits (That is to say, tracks built on streets primarily used for transport, quite unlike the streets that make up parts of Mount Panorama, the Circuit de la Sarthe and Circuit Gilles Villeneuve, which today exist mostly to make up racing tracks) of the last 50 years, if not ever) by series CEO Alejandro Agag.
By coming two weeks before IndyCar's race at the track, Formula E presents a clear challenge to travelers to the race, one they will likely lose: Travel to the same place two weeks apart, stay in Long Beach for two weeks, or choose either just Formula E or a race weekend containing both IndyCar and both of North America's top level professional sports car racing categories. Fascinatingly, they've chosen to approach this issue by declaring the race free to all, choosing to not sell tickets. Thus, the only thing they have to fight among locals is apathy, and their only job is to convince area residents that Formula E is worth a day or two of their lives.
That seems like an easy problem to solve, but alas it's one that every support series has struggled with for years. Take, for example, last year's Grand-Am Rolex Sports Car Series companion race to the Detroit Belle Isle IndyCar Grand Prix. Because that IndyCar race was held over two days, the sports car race before it was featured on the same ticket as the first racing day of the event, and all that was needed for those attending the open wheel race to see Grand-Am was an early arrival to the track. Nonetheless, even with a full target audience of committed racing fans already having tickets to the event, the Grand-Am race was still sparsely attended, and in clear contrast to the near-sellout of the IndyCar race that immediately followed. This is the battle Formula E will face everywhere, as even known racing fans are hesitant to bite on attending a series they aren't already familiar with or excited about.
No matter the result of the sanctioning body's fight to attract crowds, 40 cars for 20 drivers (Unless a team fails to materialize, as one might expect given that one of those teams is supposed to be Jay Penske's Dragon Racing) will take to the streets of Long Beach in a late round of the inaugural all-electric open wheel racing championship in what, given the size of the market and the free entry idea, will be a massively telling race for the series. The first 10-car run of the category's spec Dallara-built (And indeed DW12-based) Spark-Renault SRT-01Es were delivered for teams earlier this week, and the first test for the series takes place at Donnington Park (A terrible place for an all-street-circuit series to test, but the home of the category's front office) on July 3rd. The new open wheel series will finally commence it's first race on the 13th of September, 2014, on a less-than-inspiring Beijing, China street circuit.
Only two of ten teams have named their driver lineups for the upcoming series. Virgin Racing, whose team will be run by Lotus's Enstone-based Formula 1 effort, has signed Scuderia Toro Rosso veteran Jaime Alguersuari and criminally under rated open wheel up-and-comer Sam Bird. Audi Sport ABT, a team linked to Audi in the same way Caterham Formula 1 was linked to Lotus when it used their name, has signed struggling GP2 driver Daniel Abt and Formula E test driver Lucas Di Grassi. The teams still on the market for drivers are Jay Penske's Dragon Racing outfit, Andretti Autosport (Who have recently inked a deal with Wirth Research, the firm behind all of Honda's HPD line of Le Mans Prototypes for support in their Formula E efforts), Mahindra Racing, Super Aguri Formula E, China Racing (Which is an extension of an old A1GP team, fittingly enough), Drayson Racing, Venturi Grand Prix (The racing outlet of vaporware supercar manufacturer Venturi, who have for some reason partnered with Leonardo di Caprio for this effort) and European Open Wheel Racing stalwart DAMS (Who have partnered with Alain Prost). Drivers expected to fill open Formula E seats include the likes of Marco Andretti, Karun Chandok and Sebastien Bourdais.