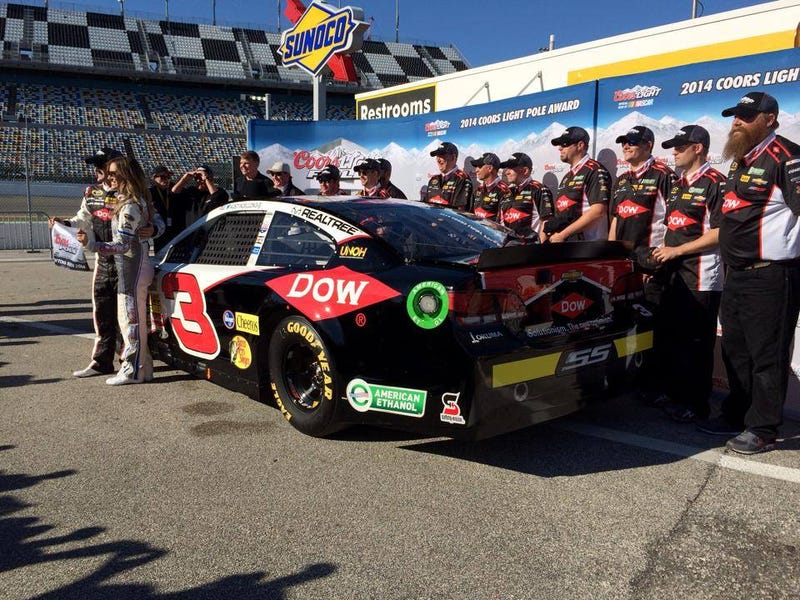 Austin Dillon's first full season of NASCAR Sprint Cup racing, and with it the return of that number 3 most closely associated with Dale Earnhardt to NASCAR competition, will begin from the very front of the 2014 Daytona 500 field. With a lap time of 45.914 on the 2.5 mile circuit, good for an average speed of 196 miles an hour, he becomes the first Daytona 500 pole sitter for his grandfather's Richard Childress Racing team since 2006.
As with 2013, where Danica Patrick was fast qualifier heading into the first start of her rookie year, there are already conspiracy theories swirling. However, just as in 2013, it still remains true that any steady hand in a car with the right engine package, the right setup and the right drag coefficient can win the pole here. Dillon's pole is even less suspicious when one notes that he put in the fastest time in preseason winter testing at this track, that he finished in the top 5 of both practice sessions yesterday, that he holds the spot by just 39/1000ths of a second and that he, as Patrick, is seemingly lighter than the average driver, something that makes no difference in a race but can mean an extra thousandth or two in a flat-out, line-hugging plate qualifying session.
The front row was completed by the Furniture Row-run satellite Richard Childress Racing entry of Martin Truex Jr, whose team didn't test here in January.
Though they are the only two drivers locked into their starting positions before Thursday's qualifying races, a few other drivers have been locked in no matter what happens during those events due to either speed, 2013 championship standings or past champion's provisionals. Those pilots: Greg Biffle, Carl Edwards, Ryan Newman, Brad Keselowski, Dale Earnhardt Jr, Jeff Gordon, Jimmie Johnson, Matt Kenseth, Clint Bowyer, Kyle Busch and Tony Stewart.
Realistically, about 30 drivers are locked into the race, but every driver that qualified today not previously listed has at least one scenario where they could find themselves sitting on the sidelines come next Sunday.
Jalopnik contributor Parker Kligerman's attempt to start his first Daytona 500 began strong as he qualified P33 of 49.
(Title photo via Richard Childress Racing)