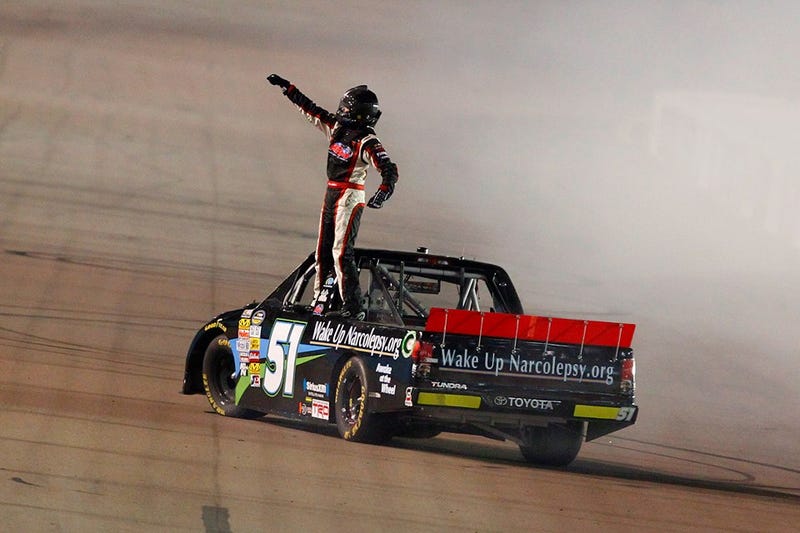 After a hard fought battle with Ross "The Watermelon" Chastain, Erik Jones capped off an impressive debut season with KBM by winning his first NASCAR sanctioned race last night in Phoenix. Why is this so notable? Erik Jones was born on four days after Buddy Lazier's lone Indianapolis 500 victory. Yes, he was born in 1996.
Jones, the 2012 winner of the Snowball Derby (A legendary Late Model race in Pensacola, Florida), has been running with Kyle Busch Motorsports part-time in the NASCAR Camping World Truck Series throughout 2013 thanks to a rule change allowing drivers aged 16 and 17 to run in the series on tracks the length of a mile or shorter. It took Jones only five starts to win, and in those five starts, his worst ever finish is ninth. In his NASCAR career to date, he is averaging a finish of sixth. All in a car sponsored by narcolepsy awareness.
Of course, narcolepsy awareness isn't his only sponsor. He's one of four young NASCAR racers directly sponsored by Toyota, and in the last three weeks, each of the four has proven massively impressive:
Last week at Texas Motor Speedway, part-time Jalopnik contributor finished Parker Kligerman finished 18th in his Sprint Cup Series debut. That doesn't sound all that impressive until you note that Kligerman was piloting a Swan Racing car, based on a Ganassi car from 2008, powered by an ever-terrible Triad engine. Furthermore, he finished directly ahead of Elliott Sadler, Austin Dillon, Kyle Larson and Trevor Bayne, all of which are fellow Nationwide Series pilots behind the wheels of new-for-2013 equipment with top tier engines.
The day before, Alex Bowman earned yet another Nationwide Series pole. He has started a NASCAR race at Texas Motor Speedway from a position worse than first.
The week prior, Darrell Wallace, Jr. took the first win for an African-American in a national NASCAR series in 50 years when he took his debut victory in the Camping World Truck Series at Martinsville.
Considering that Toyota spent last year funding the declines of Todd Bodine and Kenny Wallace, it's pretty clear that Toyota's change in sponsorship strategy for 2013 has worked out rather well.
(Title photo via Erik Jones Racing)