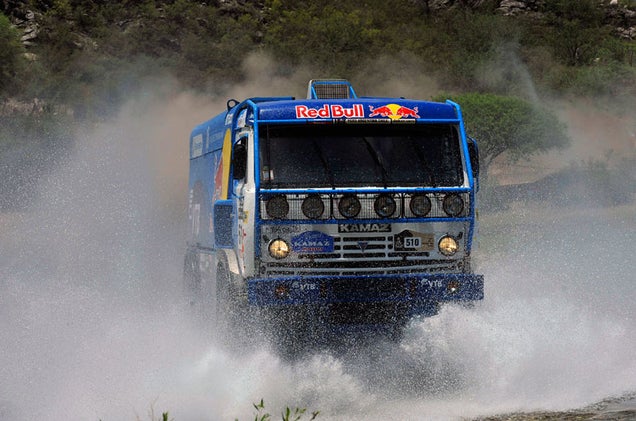 S
Unlike this powerful Kamaz truck that seems to be able to barrel through almost anything, I haven't been able to power through a dreadful bout of writer's block. Perhaps it's because Dakar has been a fairly uneventful race thus far. There have been a few highs, like Sam Sunderland being the first Brit to win a stage in 15 years, as well as possibly being the youngest stage winner on a bike in the history of Dakar. He's 24, and I need to go through past winners to find out. There have also been lows, again involving the British. Race 2 Recovery's two cars are officially out of the race. They're still competing in T4 or truck class. A few riders have been injured in both bike and quads, but so far, nothing seems to be life threatening, thank goodness. As of the end of Stage 3, 28 bikes, 3 quads, 16 cars, and 3 trucks have withdrawn from the race.
Here's today's, (Stage 3), video highlights from the official site.
One of the good things coming out of the competition is that there are four different manufacturers in the top five in bike class. I wish Speedbrain was in the mix, but it's Honda, Yamaha, KTM, and Sherco in the top five. Barreda, whom I predicted to do well before the start of the race, has won two stages thus far. Yes, Dakar is a long, arduous race, but I still expect him to be in the mix at the end of this event. His climbing in today's high altitude event has shown his navigational skill, and the incredible shape he's in. He is well prepared for this event. Sam Sunderland, The UK's great hope thus far, fell behind and is currently ranked 30th.
Your top five riders are:
1) Joan Barreda
2) Cyril DesPres
3) Alain Duclos
4) Marc Coma
5) Francisco Lopez Contardo
Quads Overall top five:
1) Rafal Sonik
2) Ignacio Casale
3) Sebastian Husseini
4) Sergio Lafuente
5) Mohammed Abu-Issa
Cars Overall top five:
1) Nani Roma
2)Orlando Terranova
3) Carlos Sainz
4) Stephane Peterhansel
5) Giniel De Villiers
Finally in the truck class, your top five are as follows:
1) Gerard De Rooy
2) Van Marcel Van Viliet
3) Andrey Karginov
4)Hans Stacey
5) Ales Loprais
Tomorrow's Stage 4 sees the race travel from San Juan to Chilecito. Motorcycles and quads have a special stage of 353 km, while cars and trucks double that with a 657 special stage. All classes traverse an aprox 210 km liason section. Tomorrow will be difficult with drivers and rider's navigational skills being put to the test. Cars and trucks will be traversing rivers and descending canyons. I predict much excitement and might even live blog as much of the event as possible.
See you tomorrow for Stage 4, and best of luck to all the competitors.
Stage 4 Map: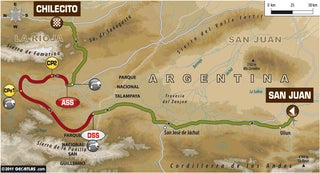 S